GOLD WINNER: MasterCard Brazil: "What's Priceless to You?"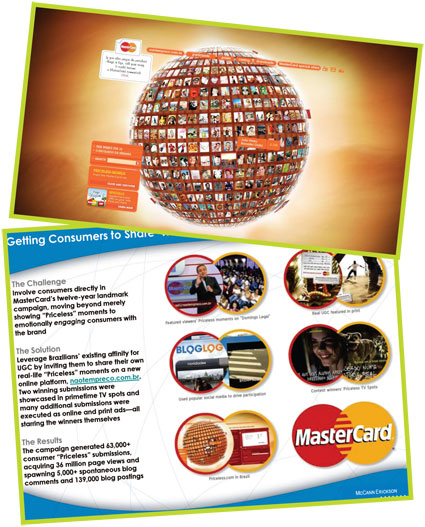 Client: MasterCard Worldwide
Entrant Company: McCann Erickson Brazil
Entry Category: A local execution of a multinational campaign
Names to be credited with submission:
Rogério Bonfiglioli- MasterCard
Beatriz Galloni- MasterCard
Cristina Paslar- MasterCard
Ana Pallotta- McCann Erickson
Maximiliano Lacerda- McCann Erickson
Eduardo Hernandex- McCann Erickson
Debora Nitta- McCann Erickson
Marcelo Mendes- McCann Erickson

Marketing Situation: Mobilized by MasterCard's 12-year, landmark campaign, Brazilians have developed personal interpretations of what "Priceless" means. Due to Brazil's advanced blogosphere and cultural affection for self-broadcasting, many examples of "priceless moments" populate the Internet as photos, videos and blog postings.

Keen to be part of this user-generated revolution, MasterCard launched a revamped priceless.com site asking consumers, "What's Priceless to You?" in an effort to move beyond merely showing consumers priceless moments to actively engaging them to share their own real-life priceless experiences.

Insights: Brazilians are some of the most active social networkers in the world. (In-market research showed that 50% of Brazilians run their own blog; 71% upload photos to sharing sites, while 68% upload videos; and 56% manage their online profile daily.) Combined with the viral nature of the "Priceless" concept, this provided a uniquely fertile ground for a consumer-generated content campaign.

Digital Media Strategy: To drive participation, a campaign for digital and tradition media was created to tell potential participants that the two grand-prize "Priceless" submissions would become primetime TV spots—staring the winners themselves. A viral action campaign also supplemented this to encourage contest entry.

The campaign also implemented a segmented marketing approach. AS one of the world's largest countries, Brazil displays a wide range of consumer behavior across its various regions. This allowed MasterCard to creatively adapt campaign messaging and mediums for each region, using precise geo-targeting.
Worldwide Best Practices: Sharing of assets with publishers to best effect. "What's Priceless to You?" is a best-in-class example of a local execution of a global campaign as it builds on elements that resonate most with local idiosyncrasies. The cornerstone of the campaign's success is its strategic vision to marry the popularity of "Priceless" with two key elements of Brazilian culture: an innate tendency to socialization (empowered by the collaborative nature of the Internet) and a culturally-embedded quest for recognition.
Knowledge of our consumer and market. Truly understanding where people are influenced in movie-going decisions enabled us to place advertising in the most effective places. Deep understanding of marketplace enabled 'conquesting' of competitor movies to encourage people to switch their plans and see HIC instead.

Results: This marks the first time that a Brazilian financial services company has ever incorporated user-generated content in a marketing initiative, les alone harness authentic consumer stories and networking for a promotion.

Executed to encourage consumer interaction and preference, the campaign ultimately propelled MasterCard ahead of its competitors in the digital space. It also served to underline the importance of "friends" (online, offline word-of-mouth) in campaign awareness and continuing brand participation and trust.