SILVER WINNER: Brocade—DCX Man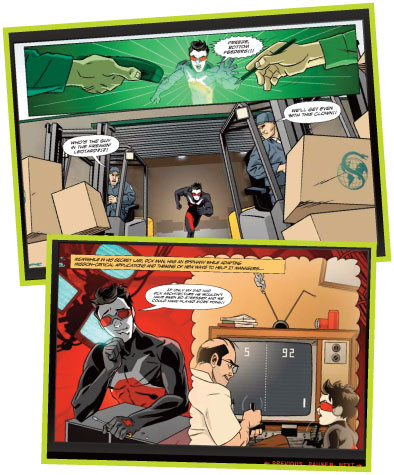 Client: Brocade
Entrant Company: Doremus San Francisco
Entry Category: A local brand or service in a local market with innovation solutions worthy of international adaptation or of world class standards
Names to be credited with submission:
Joe McCormack, EVP/Creative Director-Doremus
Tony Landgraf, Art Director-Doremus
Kevin Brown, Copywriter-Doremus
Melissa Harris, Director of Interactive Experience-Doremus
John Mannion, EVP/ Director of Client Service-Doremus
Sebastian Shap, Account Director-Doremus
Michael Litchfield, Director of Interactive Strategy-Doremus

Marketing Situation: The DCX Man campaign objectives were to create immediate awareness and excitement for the launch of the Brocade DCX Backbone, while continuing to reinforce Brocade's role as an industry lead in the storage and data center space.


Insights: The target audience's life-long love of comic books provided the creative insight for a superhero to the IT community—one that is authentically well-versed in unique terminology, idiosyncrasies and identifiable elements that resonate with Brocade's end-users. The audience's propensity to spend time online and use the media for informing purchase decisions reinforced the concept of making the campaign both viral and virtual in nature.

Digital Media Strategy: The key campaign tactics included the redesign of the DCX Man microsite and the development of fully animated DXC Man episodes.

The DCX Man site became a richer user experience with more sticky and engaging features like an online videogame, ringtones, buddy icons and coloring books of episodes. Fully animated DCX Man adventures provided custom content in the form of animated new adventures and enabled the website to have timely episodic new features that leveraged the site as an online distribution channel. These animated episodes retain the illustrated comic book style and included sound design to create a richer experience for DCX Man fans.
These tactics enabled Brocade to retain a freshness to the DCX Man campaign and establish a reason for fans to periodically come back to the website.

Worldwide Best Practices: DCX Man was an ethnicity agnostic carton character that could be localized internationally to connect with mid to senior level IT audiences around the world. By creating a more experimental microsite and animating the new adventures with sound design, it was cost effective to extend the campaign globally. This strategy was done explicitly to take this successful marketing initiative and leverage it in other markets.
Results: The DCX Man's adventures have captured the attention of IT managers across the globe, providing them with a superhero who speaks their language and responds to their unique problems. He's been featured in his own comic book, both in print and digital form. He's become an action figure (which clever IT people have made available to trade/sales on eBay), been plastered into a lunchbox, and appeared in person at trade shows.