BRONZE WINNER: Accenture High Performance Business Podcast Series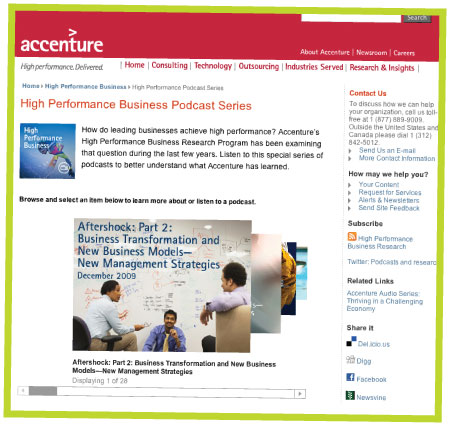 Client: Accenture
Entrant Company: Accenture
Entry Category: A Global or Multinational campaign running in several regions
Names to be credited with submission:
Molly E. Spatara, Global Director of Internet Marketing- Accenture
Lorraine Shearing, Senior Manager of Internet Marketing- Accenture
Chris McConnell, Manager of Internet Marketing- Accenture
David Lawrie, Program Manager- Murphy & Co.
Kimberly Diehl, Program Manager- Murphy & Co.

Marketing Situation: Accenture was looking for new and innovative ways to increase the exposure of the company's thought leadership. Of particular importance was the Accenture High Performance Business research initiative. This is a groundbreaking, ongoing program to measure the key ingredients of high performance among those organizations that consistently outperform their peers. These important findings were being distributed in print form and as text on accenture.com.

Insights: The critical insight was that senior executives value podcasting as medium, provided it serves their information needs and it is produced in a professional manner.

However, before investing in a podcasting program, Accenture conducted two rounds of one-on-one interviews and user testing with C-level executives representing the core target market. The research demonstrated that although the target audience was not intensive podcast subscribers, they were familiar with the medium and viewed it as a potentially viable form of business communications. They also saw it as an efficiency tool during commuting or travel time, and would prefer a video component in addition to audio.

Digital Media Strategy: Accenture's outlined the following strategic objectives to be delivered through podcasts:
• Reinforce Accenture's positioning of "High Performance. Delivered." by sharing insights from the research.
• Provide another channel to share the High Performance Business research findings in order to make the content as accessible as possible.
• Enable prospects and the wider business community to gain a further understanding of the research.
• Use of technology in a compelling manner.

The Accenture High Performance Business Podcast Series was launched by offering subscribers 15-20 minutes of audio summaries of research results. Reflecting the high production values expected of Accenture and of the target audience, the series featured a regular host and an accompanying video presentation for online viewers or those using video-enabled MP3 players.
Worldwide Best Practices: Since launching the initial podcast series, a number of modifications and best practice learnings have been made that resulted in SEVEN new podcast series.

Improvements included a more intuitive and simplified process for subscribing, as well as a new interface and RSS feeds. The High Performance Business Podcast Series can now be downloaded from iTunes, and is also syndicated through FeedBurner, which helps to simplify the subscription process and enables better evaluation of results.
Results: The "scorecard" for measuring podcast effectiveness demonstrated:

• Exponential growth of subscriptions, hits and views of the podcast series.
• A dramatic uptake in the requests for the feed and views of the feed material.
• Jumps in views of the podcast from the web page
• Increases in time spent in the podcast section of accenture.com
• More downloads.