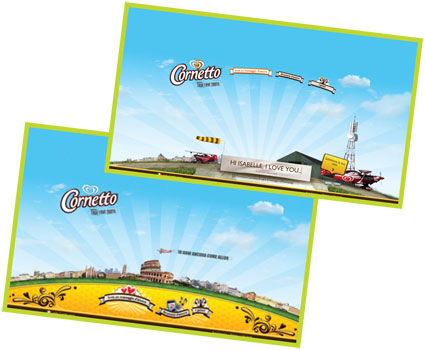 GOLD WINNER: Cornetto Love Messenger

Client: Unilever-Cornetto
Entrant Company: Tribal DDB, Amsterdam Netherlands
Entry Category: Regional — A Multinational campaign in any one region of the world, such as Europe, Latin America, Middle East, Asia, etc.
Names to be credited with submission:
Strategy: Sean Chambers, Rik Heijmen, Joey Duis
Creative Direction: Chris Baylis, Mike Hambleton, Rik Heijmen
Account Direction: Joost Jongbloed, Sandra Smits
Project Management: Sanne Drogtrop

Marketing Situation: The European ice cream market is saturated, and Cornetto competes against both private labels and other A-level brands. Since 1976, Cornetto has been the iconic brand in Unilever's portfolio; however, the goal of the campaign was to encourage a greater connection with a new teen target audience and contemporize its image. Cornetto set out to develop a European campaign to become the global symbol of young love shared: an innocent yet meaningful pleasure for teens.

Insights: The foundation for the digital strategy was based on two critical consumer insights:

1. Teenagers are at their most vulnerable and exciting time of life; notions of love are experienced with intensity. However teens find it hard to express their inner feelings to the ones they love. They feel insecure in face-to-face situations and are fearful of being rejected. That's why they prefer to flirt in the digital space and create their own love language.
2. The digital channel has become part of the daily lives of a teen target audience. European teens are heavy users of social networks, e-mail, and above all mobile communication. (Most teens own advanced mobile phones). Digital-savvy teens aspire to originality and a personalized experience, because they search for ways to express their own identity.

Digital Media Strategy: The virtual love message tool is the heart of the digital campaign. The Cornetto website enables teens to create videos with shots of a plane dragging a personal love message that flies over their European city of choice. The innovative application uses the Panoramio.com API, through its geo-location photo sharing website with 2 million+ pictures. The personal love message videos can be created for almost every spot in Europe. Through the Cornetto digital brand experience, teens can express their feelings to their loved ones in an innovative and personalized way.

They can also compete for a grand prize—a real "love message in the sky"—a plane flies over head with a love message trailing in the wind for all to see. Codes on Cornetto lids offer a number of instant prizes, as well a shot at the grand one.

Results: Not only did Cornetto develop a consistent brand image across the three European target markets, but the strong universal principle of 'love,' especially among teens, transcended borders. In order to activate an audience, a brand needs to add value by either being useful or entertaining—this campaign was both. Love is about interacting, and therefore the Web and mobile phones are natural digital channels to support local offline sales promotions.

In addition to contemporizing Cornetto's brand image, increased frequency of consumption was another important campaign goal. This succeeded; according to Unilever sales figures, targets were surpassed by 40% to 150%, varying by country. ROI can sit comfortably alongside creativity.