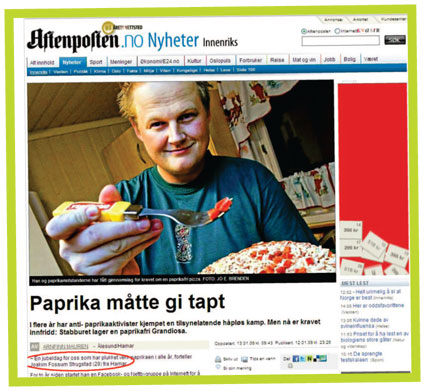 GOLD WINNER: Grandiosa

Client: Stabburet A/S
Entrant Company: OMD, Norway
Entry Category: A local brand or service in a local market with innovation solutions worthy of international adaptation or of world class standards
Names to be credited with submission:
Strategy: Bjørn D. Eidsvig, OMD Norway
Digital Advisor: Chris Baylis, Mike Hambleton, Rik Heijmen,OMD Norway
Brand Manager: Carl Ivarsson, Stabburet A/S

Marketing Situation: Grandiosa is a well known brand in Norway with almost 57% market share in the frozen pizza market. Norwegians eat approximately 26 million Grandiosa pizzas every year. (The Norwegians' special fondness for frozen pizzas is due to a shortage of time for preparing traditional meals. In a survey conducted by parent company Stabburet in 2004, nearly 20% of the population claimed that pizza is a Norwegian national dish!)

Almost every Norwegian has tried Grandiosa and the most popular variety is the original version with ham, cheese and red peppers. Parent Stabburet has launched nine varieties over the years with spectacular ads and popular theme songs. (One year 700,000+ people downloaded the theme song and it ended up as the number 1 song on the Norwegian billboard chart.) So when a new Grandiosa pizza is to be launched, expectations are sky high.

This campaign was to be no exception. Research showed that 750,000 Norwegians (out of a total population of 4.7 million) wanted the original Grandiosa without the red peppers. The goal was to actually launch a new pizza in response to these demands, but Stabburet was also concerned that it would succeed in the market without cannibalizing the original Grandiosa.

Insights: Given that one-third of all Norwegians have a profile on facebook, social media was the right place to learn more about the appropriate product launch. In fact, there were 14 groups and/or fan pages on facebook focused around removing the red peppers from the original Grandiosa pizza.

As a result, Stabburet was about to enter facebook as a corporation for the first time.

Digital Media Strategy: Stabburet decided to release the new pizza for a limited 3-month sales period and offered the news in advance to the creators/administrators of the "no red pepper" facebook groups. They were each contacted by Grandiosa's own brand manager to let them know that the company was listening to their needs. Grandiosa also created a corporate fan page with fun features to handle user interest and offer a sneak preview of the new pizza. In addition to being a teaser for the upcoming product launch, it enabled Grandiosa to gain valuable customer insights the brand and the campaign.

The users of social media are demanding. They do not want to be interrupted by irrelevant ads or be approached by companies trying direct their attention of something of little interest. Stabburet wanted to respond to the "passion for pizza" shown on facebook by letting the users take part in the launch. They turned the focus of the whole campaign from being a corporate-led initiative to a product release developed and requested by the public itself.