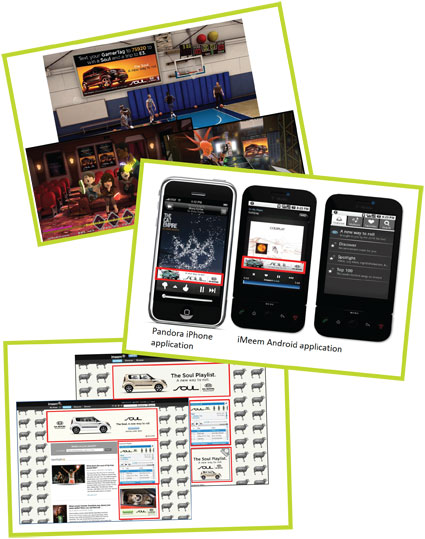 GOLD WINNER: Kia Soul: "A New Way to Roll"

Client: Kia
Entrant Company: Initiative, Los Angeles
Entry Category: A local brand or service in a local market with innovation solutions worthy of international adaptation or of world class standards
Names to be credited with submission:
Labi Bemanian, Rebecca Krawczyk, Brien Downie—all Initiative

Marketing Situation: The launch of the new design-led Kia Soul in the US presented a communications challenge. Kia has low awareness among Americans, and as a result, low purchase consideration. The goal was not only to increase brand recognition, but position the Kia Soul as a leader in taste and style.

Insights: The Soul's target audience is largely comprised of individualists who preferred to stand apart from the crowd and welcome "being different." The car embodies these characteristics, so the overall marketing strategy became the development of the "new way to roll" platform.

Digital Media Strategy: Innovation in this campaign was delivered through promoting Kia through media that is atypical for an automotive advertiser.

A pre-launch teaser was developed to make style leaders feel privy to the 'news' about the upcoming Soul launch.

• Kia partnered with Pandora and iMeem to be the first automotive advertiser on their mobile music applications for the iPhone and Google Android platform.
• Exclusive automotive sponsorship of Flavorpill: its editors created www.WhatIsInnovation.com for the Kia Soul, highlighting innovative art, music, film, technology for the taste-making set.
• A partnership with HypeCircle, allowed users to compete with professional DJ's. The winning submission won a trip to the Coachella music festival.

The launch program broadened to a more mass market but still tech-savvy audience:
• Soul was the exclusive (and first ever) sponsor of E3 on Microsoft's Xbox, including a sweepstake with a Soul presented at E3.
• Heavy presence on Facebook, promoting the Soul fan-page via custom Soul gifts, as well as polling and video ads.
Worldwide Best Practices: This campaign gave the consumer experiences and a reason to take notice. The E3 campaign offered users a chance to win a Kia plus tickets to E3. Facebook gifts gave consumers a reason to interact with the brand. Flavorpill custom content was created specifically for the Kia Soul – editorial features that the audience would not have had access to otherwise.
• Strengthening of the emotional connection with the brand. The Kia Soul is an unusual product and influences consumers beyond the usual price / efficiency metrics. The media selected helped accentuate this
• Understanding the purchase cycle of the product. This campaign ran unusually far in advance of the car launch so as to maximize buzz and interest and capture consumers early on as they are purchase consideration process
• Use of custom executions. Generating standout beyond standard media placement.
Results: The Car has outsold the models in its competitive set, year-to-date, moved a record number of units during its July launch period and year to date.