GOLD WINNER: Lionsgate – The Haunting in Connecticut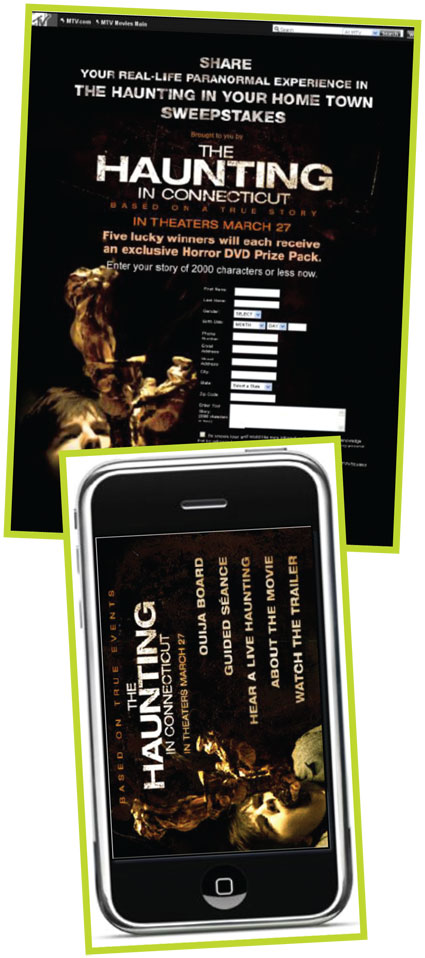 Client: Lionsgate
Entrant Company: Initiative, Los Angeles
Entry Category: A local brand or service in a local market with innovation solutions worthy of international adaptation or of world class standards
Names to be credited with submission:
Samantha Lim, Justina Du, Brett Landry—all Initiative

Marketing Situation: Beyond the standard fight for opening weekend dollars, the launch of The Haunting in Connecticut (HIC) was due for release as other highly-anticipated, big budget horror films were opening in theaters. With audiences burned out on the 'torture porn' genre, Lionsgate had to position this as a different, must-see movie.

Insights: Horror fans are enthusiasts of the genre and spend large amounts of time with related content. Undecided movie-goers and non-enthusiasts are influenced close to release, with the trailer often a deciding factor.

The strategy was to engage and persuade both audiences by 'haunting' film-goers online. Horror enthusiasts were immersed in the chill and fear of the film as they were followed online with related creepy content. The undecided were haunted by messages 'spookily' appearing in places that could influence their choice of movie.

Digital Media Strategy: By using cutting edge technology and media-firsts like 'never been done before,' custom-build placements unique to HIC, the film could visibly dominate all other advertisers, especially competing horror movies.

Horror Film Enthusiasts were reach with spooky 'ectoplasm' creative in the following ways:
• Domination of top horror sites such as Bloody Disgusting and Fearnet during week of release
• Conquest past and present horror movie reviews and showtimes
• In-text ads targeted to horror, movies, supernatural and haunting content – when users were reading related content, the trailer unexpectedly pops up
• HIC branded ouija board iPhone application, with HIC trailer, reached people actively looking for supernatural communication!
• Content hubs created where users could share their own experiences of supernatural events.
Non-enthusiasts or a wider audience of moviegoers were influenced during Opening Week when:
• Lionsgate 'haunted' MySpace during the campaign period. Users found their own photos in the 'Gallery of the Dead.' This first-ever use of this technology also meant users would see themselves featured in the movie trailer as they watched it.
• First ever synched masthead on YouTube homepage. The unmistakable ectoplasm masthead had multiple applications including watch the trailer, play with the ouija board, iPhone app, plus provided a map of hauntings in your local area.
Worldwide Best Practices: Sharing of assets with publishers to best effect. Working closely with publishing partners resulted in tapping into their deep knowledge of their users in order to create customized content and executions that would influence specific audiences.
Knowledge of our consumer and market. Truly understanding where people are influenced in movie-going decisions enabled us to place advertising in the most effective places. Deep understanding of marketplace enabled 'conquesting' of competitor movies to encourage people to switch their plans and see HIC instead.
First mover advantage. 'Endemic' sites are often cluttered with competing movies around the same time period. Advance planning and strong vision of impactful placements enabled HIC to dominate the competition.
Understanding new consumer behaviors. With the proliferation of apps, it is hard to guarantee success in a short time period. The best route to success was to re-brand an application with a large existing user base, and support with media activity.
Results: Lionsgate's Haunting in Connecticut significantly surpassed revenue expectations and became the number 14 biggest horror movies of all time