GOLD WINNER: Nissan Z List Sweepstakes on Xbox Live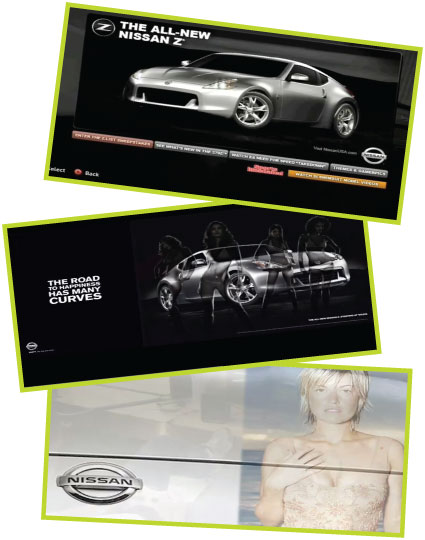 Client: Nissan
Entrant Company: OMD US
Entry Category: A local brand or service in a local market with innovation solutions worthy of international adaptation or of world class standards
Names to be credited with submission:
Nissan: Erich Marx, Chad Jacoby
Chiat: Andrew Corpman, Eric Kneler, Jessica Cheng
OMD: Dario Rciti, Ryan Peterson Brad Souva, Sara Morton

Marketing Situation: When you're seeking to engage males 18-49, you need to have a deep understanding of what truly grabs their attention, inspires interaction and drives word of mouth! This was the challenge for Nissan in launching its all-new 370Z sports car.

Insights: Nissan knows the 370Z male isn't just about the road. They are trendsetters interested in sports, technology, women, cars and personal style. With the need to break the sport car marketing conventions at launch, Nissan sought out these "Performance Zealots" with two key insights:
1. More men 18-49 play videogames than watch broadcast TV (Nielsen)
2. 39% of all Nissan owners have a videogame console (Forrester Technographics)

As a result, Nissan set out to craft an industry-first gaming execution to ignite these young passionate drivers using Sports Illustrated Sweepstakes and Xbox Live as the foundation. And what better way to capture their elusive hearts and minds than with games, iconic sports cares and swimsuit models?

Digital Media Strategy: Xbox Live reaches more than 20 million users with new users added every 5 seconds. And this audience is starved for content—(content downloads jumped between 30-49% during the last Xbox update). Given this, the creative and media strategy was to cast the 370Z as the star of Xbox Live during the campaign and grow Nissan's database of leads while bringing to life the Sports Illustrated Swimsuit edition content in High Definition.
A microsite hosted a collection of Nissan's "Takedown" videos from the Need for Speed series, along with HD of video of SI Swimsuit Cover Models. They were free and on demand by clicking on a co-branded Nissan-SI ad unit which appeared when the console was turned on.
Nissan was the first brand to employ both streaming video and lead-generation tactics on Xbox Live. The marketing objectives for the 370Z launch were to increase measures on consideration, recommendation and interest in learning more. The Xbox Live portion of the campaign represented 5% of the digital budget for the 370Z launch.

Worldwide Best Practices: The Nissan and Sports Illustrated Xbox Live campaign set a new standard for innovation and results on the gaming platform as the first brand with a first-of-its-kind sweepstakes program for the new 370Z.

Plus, Nissan was the first brand to create a full calendar for Xbox Live users to customize their gaming experience. Users who downloaded Nissan's Sports Illustrated calendar would the 370Z and the SI Swimsuit content on their screens whenever they used the console. (The model for the February campaign was a sexy new Nissan—just in time for the 380Z's launch!)

The program also began the first email capture and lead-generation sweepstakes on Xbox Live. By clicking the Z List Sweepstakes ad unit on the interface, users could download a specific piece of 370Z content that registered them for a chance to win a one-in-a-lifetime date to any sporting event with SI swimsuit model Melissa Keller. Everyone who clicked received an email with contest rules from Microsoft, allowing users to opt-in to learn more.
Results: The Nissan-Sports Illustrated partnership created one of the most successful Xbox Live campaigns in history. Videos were streamed and downloaded more than 250,000 times directly from the console to the TV in full HD. Over 100,000 opted in for the dream date sweepstakes, providing Nissan with strong leads. Brand awareness and purchase consideration for the 370Z rose dramatically, while respondents saw the new Nissan as a "stylish, high performance" car.