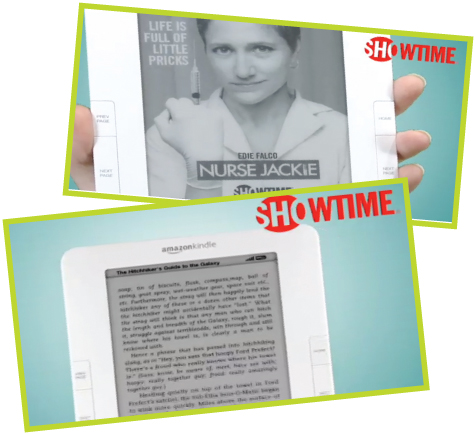 GOLD WINNER: Nurse Jackie on Kindle

Client: Showtime/Nurse Jackie
Entrant Company: OMD US
Entry Category: A local brand or service in a local market with innovation solutions worthy of international adaptation or of world class standards
Names to be credited with submission:
OMD: Jone Haber, Paul Leys, Trevor Guthrie, Jack Choate, Marc Simons

Marketing Situation: Showtime, a premium programming cable network in the US, has found sampling to be a successful strategy to build excitement about a new show launch or series premiere. Previous program sampling methods have included video on demand, online video streaming, in-theater VIP screenings, special VIP access online, and DVD samples to seed pilot episodes and drive consumer interest. Such tactics have increased both viewership and subscriptions to the upper-tier Showtime channel for shows like Dexter, Weeds, The Tudors and Californication.

Insights: With the rise in popularity of eBooks as a new electronic device, Showtime wanted to include e-readers as part of their sample strategy. This group of highly educated, high income consumers have moved away from traditional advertising sources and are discerning users of digital media. With this targeted play, Showtime became the first-ever sampling program distributed on eBooks, and the technology innovation itself generated additional buzz for Nurse Jackie, a new series starring Edie Falco (well know from her role as Carmela in The Sopranos, in addition to her many TV and Broadway performances). Premium content added excitement and greater legs for the viral nature of the campaign.

Digital Media Strategy: Showtime worked with the wireless Amazon Kindle, the largest e-Book reader in the US; however, Kindle didn't have an advertising solution. One would need to be invented and content would serve as the key to unlocking this new platform.

Showtime offered Kindle readers the summer-long opportunity to download a free copy of their first script from Nurse Jackie. After reading the script, users could view the entire pilot episode on Amazon.com or SHO.com

Showtime used a digital campaign throughout Amazon.com and on the Kindle storefront, also accessible through iPhone and iPod Touch, to promote the download. The campaign also targeted existing Kindle owners whose past-purchase behavior indicated they were entertainment/drama enthusiasts. The Nurse Jackie storefront page featured key art, show overview, download details and user feedback/comments.
Worldwide Best Practices: In 2008, 1 million+ eBook devices were shipped worldwide. By 2013, according to In-Stat, an estimated 28.8 million devices will be in use, which translates to a $9 billion market. Showtime was the first to help monetize this platform for eBook providers.

Based on the philosophy that advertising needs to be pulled into people's lives and digested like content, Showtime was able to provide an engaging experience for Kindle readers with the script format. The Kindle is a digital platform designed for the written word; Showtime respected the capabilities of the platform and gave consumers something of interest to download.

The execution blurred the lines between advertising and content with the first use of a script as a marketing tool. This may be a first step in finding a future model for the print media industry by integrating ads in a way that provides consumers with value without interrupting their experience.


Results: Nurse Jackie was Showtime's best debut of an original series—ever. Within 48 hours of the Kindle campaign launch, the script entered the Top 20 Kindle Download on Amazon.com—out of over 330,000 books, newspapers, magazines, and blogs available for download. Season Two was immediately greenlighted with 12 more episodes.

Showtime received an unprecedented gain in social media and blog conversations, and was featured in a BusinessWeek special section on "21 Ads You Won't Hate."