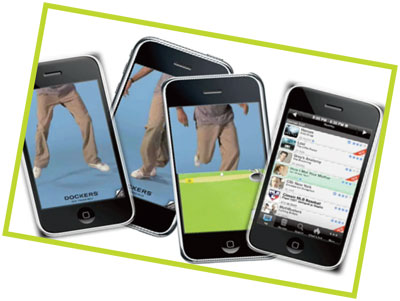 GRAND PRIX WINNER: Dockers i-Phone Shake

Client: Dockers
Entrant Company: OMD USA
Entry Category: A local brand or service in a local market with innovation solutions worthy of international adaptation or of world class standards
Names to be credited with submission:
OMD: Jon Haber, Paul Leys, Trevor Guthrie, Alix Hamilton, Carrie Davis, Jackie Thames
Dockers: Melina Baxter
Medialets: Eric Baxter
Razorfish: Linsey Mounger, Amy Griffin

Marketing Situation: "Dockers" had become a generic term for the pleated office pant. The brand needed to take khakis "beyond the cubicle" and be seen as more modern and relevant. Dockers' goal was to revolutionize a cluttered category by generating consumer excitement and conversation in order to strengthen its leadership position.

Insights: This campaign was focused largely on the need to connect with a more tech-savvy, younger male audience. Research indicated that this group scored high in the use of mobile entertainment, gaming, and iPhone ownership. As a result, it was essential to use emerging media in a unique manner to create excitement around the Dockers brand.

Taking a leadership position in new media would get consumers talking, while also reflecting Dockers leadership position in the khaki and men's categories. Dockers needed to think beyond what they were saying in their advertising and invest in how they were communicating with their target. The medium was part of the message.

Key Media Tactics: Dockers created the first interactive "shakable" advertisement adding a new dimension to advertising—actual movement. The ad ran within a custom-build network of iPhone applications. The Dockers ads featured the khakis-clad freestyle dancer, Dufon Smith, of the popular Seattle dance group Circle of Fire. Users shake their iPhone to initiate different dance moves.

The shakable ads contained all the functionality of an app by using rich media ad units distributed across multiple, pre-existing, ad-supported iPhone applications, such as iBowl, iBasketball, iGolf and i.TV. Before users start playing one of these application-based games, a full-screen Dockers appears with Dufon tapping his foot. The ad instructs uses to shake the phone to initiate a dance routine. They can also opt for an encore performance.

Worldwide Best Practices: The iPhone accelerometer (motion-detecting sensor) had never been used within an ad until Dockers pushed the boundaries and leveraged the technology to engage with consumers. Dockers was the first advertiser to incorporate movement into a mobile ad unit—creating the first rich media experience for the mobile web.

The campaign approached mobile advertising with a fresh perspective by building a functioning application that becomes distributed through a pre-existing ad network. As a result, the app-like ad had guaranteed exposure to reach millions of consumers.

Results: Dockers immediately became known as a leader in mobile innovation through their entertainment and engaging ad tactic on a device that was becoming a technological and cultural phenomenon. Proprietary buzz tracking tools indicated that the campaign developed a dramatic increase in positive brand conversations on social media platforms and demonstrated a strong connection with a newer, younger target.

Entirely new performance indicators had to be defined as a "shake" became a new metric of brand engagement. Dockers changed their perceptions as not just a generic khaki brand, but as a marketer on the forefront of emerging technology—read to "shake" things up.