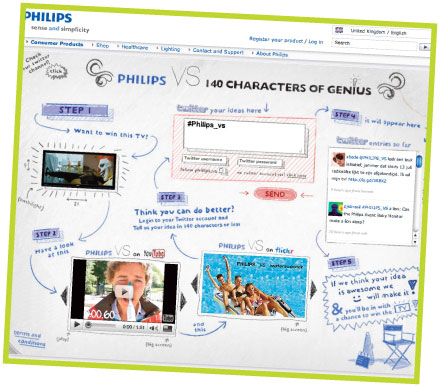 GOLD WINNER: Philips_vs

Client: Philips
Entrant Company: Tribal DDB Amsterdam
Entry Category: A Global or Multinational campaign running in several regions
Names to be credited with submission:
Client Credits: Philips Consumer Lifestyle:Gary Raucher: VP, Head of Integrated Marketing Communications
Pijke Oostra: Sr. Manager, Global Public Relations
Agency credits: Agency: DDB London, Tribal DDB Amsterdam
Global Creative Director: Neil Dawson
Deputy Global Client MD: Roger Trollope
Creative Director: Chris Baylis, Tim Voors
Strategy Planner: Joey Duis
Media Strategy: Rocco Stallvord
Creative Team: Bart Mol, Keith Kornson, Mike Hambleton, Pascal Boogaert, Maximiliano Chanan, Wijbrand Stet.
Technical Lead: Jan Willem Penterman
Account Director: Mark Preston, Gregor McQuattie
Project Director: John Reardon
Agency Producer: Jeroen Jedeloo
Production company credits: Poolworldwide: Director: Andre Maat
Producer/AD: William Griffioen
Production Manager: Laura Rippen
DOP: Coen Stroeve
Camera 2nd Unit: Eldar Gross
Gaffer: Tom Northam
Art director: Goof Vermeulen
Animal Handler: Jaap Zunneberg
Sound: Michel Sanchez-Infante
Editor: Ben Putland
Animations: Henk Loorbach
Farmer: Mr. Ooijvaar
Rooster: Simon
Sonicare 2nd Unit:
Dop: Tjitte Jan Nieuwkoop
Camera 2nd Unit: Eric Lor
Sound: Jan Nieuwenhuijs
Production Manager: Jain Holsheimer


Marketing Situation: To address consumers' needs for better performance and longevity in challenging economic times, Philips launched "Philips, of course." This global media campaign is designed to dramatically and directly engage with consumers through an intensely orchestrated media burst, integrating TV, online, PR and print media to bring together Philips Consumer Lifestyle products and businesses under a single-minded message, The goal is to show, through attention grabbing ads and competitive comparisons, that the Philips brand remains the best choice for consumers.

Insights: Given that product comparison is at the heart of the "Philips, of course" campaign, the strategy was to reach creative-minded people and influencers who would become ambassadors to communicate Philips' superiority in a fun way to a broad audience. A competition on Twitter became the viral mechanism to involve and engage these influencers. Twitter accomplished a number of things for the campaign:
» It is global, as is our target, and has significant viral potential
» It provides a fun, innovative and low threshold way to enter the competition to become a brand ambassador.
Philips would be the first leading brand to run a global campaign on Twitter, which strengthens the company's position as a frontrunner.
Digital Media Strategy: A competition page (http://twitter.com/Philips_vs) asked the community to dream up extreme challenges that show the superiority of Philips' products. The winning idea would be filmed and shown on the web and the winner will receive a Philips Cinema 21:9 TV.

To inspire the target audience, a promotional video presented Philips with a challenge to the sun by testing if a rooster would crow in the middle of the night with a Philips Wake-up Light.

Consumer-generated challenges could also be submitted via the mini campaign site, www.philipsvs.com. This page included more information about the campaign, an integrated real-time Twitter feed of the latest entries and inspiration in the form of embedded viral videos (YouTube clips) & visuals (embedded Flickr/Twitpic pictures).
Worldwide Best Practices: A Twitter follower is an advocate, not just someone with a casual view. Twitter is all about instant gratification and dialogue. Over 3,000 followers invited Philips into the conversation, and we talked to them all in a natural tone-of-voice.

In fact, Philips thought about online the way consumers think about online. Rather than concentrate on one platform, Twitter, Flickr, Youtube and Philips.com were seamlessly incorporated into the campaign. Philips behaved the way consumers behave online.

Philips thought about Twitter in a different way. Twitter became a means for people to 'tune to' for following ideas and related content. The Rooster film and other virals, plus the Photoshop challenges, really set the community talking and helped to get PR outreach on blogs.

Results: Besides a small media buy for promotional Tweets via the Magpie network, no additional paid media was used to promote the campaign. In the short competition period of 4 weeks, buzz and awareness was created by leveraging the power of Twitter with other social media platforms like YouTube and Flickr. This resulted in a positive ROI and the achievement of all the set KPIs. Most importantly, Philips will be known as the first leading brand to run a global Twitter campaign.