GOLD WINNER: Rodilla — Eat for Free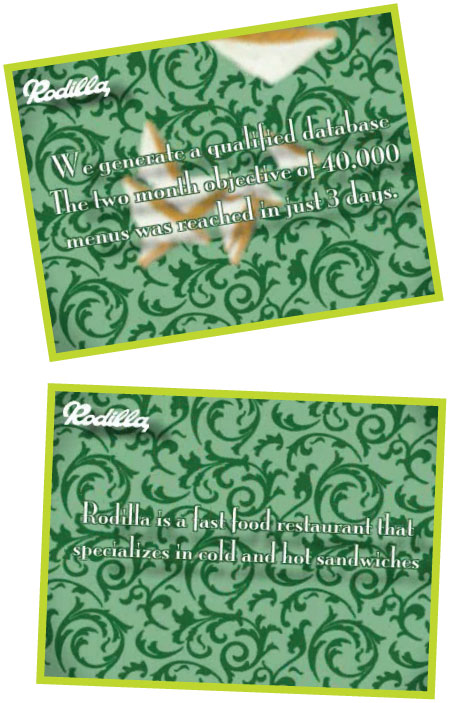 Client: Rodilla
Entrant Company: PHD Spain
Entry Category: A local brand or service in a local market with innovation solutions worthy of international adaptation or of world class standards
Names to be credited with submission:
Pablo Alonso, PHD Spain CEO
Cesar Barral, Strategy Director, PHD Spain
Gonzalo Galván, PHD Mobile Director
Alessandro Orru, Digital Planner

Marketing Situation:The 2009 economic situation in Spain affected even fast food restaurants. Rodilla had fewer customers, and those who continued to eat there decreased their average spend.

Spain's fast food category is fragmented. Although Rodilla is the clear leader in the sandwich segment in terms of communication, the company has international competitors with much larger media budgets.

Plus, new, healthy fast food players and atypical options like Turkish food chains are offering consumers different, appealing options and increasing the competition in this segment. (Examples include: Fast and Good, Abbasid döner kebab and Istanbul döner Kebab.)

Rodilla needed to renew its brand image and bring new and younger customers to their restaurants.


Insights: Rodilla's best targets are teenagers and young adults, between 18 and 35 years old. The use of internet and mobile devices within this target is colossal. More than 75% use the Internet to search for information, to communicate, to socialize. In Spain, 98% of teenagers and young adults have a mobile; the most common uses are: sending SMS, sharing photos or files with their friends to get updates from social networks like Facebook or Tuenti.

This target also uses new technologies to express its own identity and to also feel part of a larger community that thinks and feels like them. Brands that provide something to make these socially-conscious individualists feel ahead of the crowd make a difference.

Therefore, the goal was to pioneer a technology strategy that was never used for a fast food chain before-- mixing online tactics with mobile marketing and QR codes.

Digital Media Strategy:The Rodilla campaign had three main objectives: drive traffic to restaurants, generate a specialized database and revitalize the image of the brand.

"EAT FOR FREE" was at the heart of driving traffic and generating a database. Those who registered on the web site (www.echalemorroycomeporlacara.com) received a 2D code (QR) on their mobile to enjoy a free menu just by showing it to the shops participating in the campaign.

A companion promotion-- ""Be the most original person eating a sandwich"-- enabled people to upload pictures and videos. The prize for the most original 5 entries was a free menu for a year, one menu every day!

The campaign was communicated in a young tone with a fresh image via social media, blog hunting, and an opt-in segmented email campaign. Rodilla also had a Facebook profile and an account on Twitter.

Worldwide Best Practices: This is certainly an example of how to obtain big ROI with a small media budget. Optimal communication channels for this young target are Internet and Mobile, and using the latest technologies helps to revitalize and raise engagement with the brand. QR codes on the mobile phones enable personalized message to every one of them.

A triple system to validate the 2D codes was created: through an automatic PDA (reading or typing checking) or through a call centre. Only 0.25% of the redemption issues were managed through the call centre.
Results: One of the objectives was to redeem at least 20,000 mobile coupons in Rodilla restaurants during the two months of the promotion. In only three days of the promotion the objective was reached. Seven out of every 10 people registered went to the restaurant to validate their mobile coupons.

Not only was the brand rejuvenated, but a specialized database with at least 40,000 new users registered was created. By the end of the promotion, more than 135,000 new users registered and 66% of this new database was between 18 and 35 years old.

The small initial media investment was surpassed 10-fold by the value of mainstream media coverage connected with the "EAT FOR FREE" promotion.