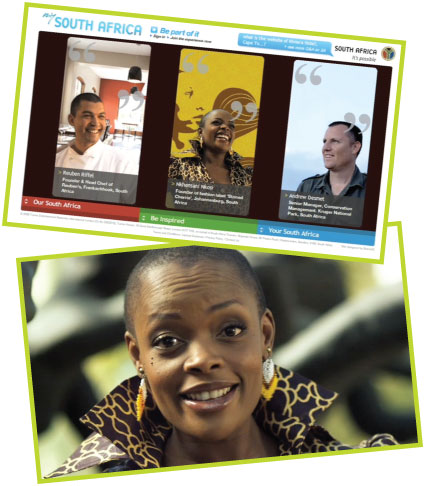 GOLD WINNER: My South Africa

Client: South African Tourism
Entrant Company: CNN International, London
Entry Category: A Global or Multinational campaign running in several regions
Names to be credited with submission:
BRAND 42: JIM FOWERAKER
OGILVY SOUTH AFRICA: SUE DUSHEIKO
CNN: AILSA PRINGLE, PAUL HARPER, JOHN MALONE, ASHLEY HOGAN-GANCARZ, KATY THOMAS

Marketing Situation: South Africa Tourism was looking for a digital solution that was innovative enough to stand out in a crowded and increasingly competitive marketplace. It also needed to sell South Africa, the brand, to as many people as possible.

Central to the campaign was the idea that South Africa is a land of diversity and flux, so no two people will make the same choices. There needed to be an engaging communications vehicle for storytelling and sharing experiences of South Africa.

Additional goals were to create awareness for the 2010 World Cup tournament and achieve preferred destination brand status by 2014.

Insights: In 2009, the My South Africa campaign entered its second year and in order to keep up with consumer shifts towards social networks and interactive media, an effective campaign needed to stimulate action. The goal was an online solution that involved consumers in a two-way dialogue, capturing the zeitgeist of shared multimedia experiences and prompting an emotional response. The campaign elements needed to be flexible enough to leverage other South African Tourism initiatives as well as have enough staying power to evolve over time.

Digital Media Strategy: To further promote the campaign and to inspire people to take part, CNN International produced a new series of 'call-to-action' television spots featuring 3 South African ambassadors to drive audiences to the website:
1. Reuben Riffel, world renowned chef and owner of acclaimed restaurant, Reubens
2. Nkhensani Nkosi, founder and creative director of fashion label, Stoned Cherrie
3. Andrew Desmet, senior manager of conservation at Kruger National Park
New features were added to the My South Africa website to provide users with an original, innovative experience.

» A new profile section with information about each new South African ambassador and a Q&A with each showcasing their experiences of South Africa
» A 'journey planner' section that pushes users to the South Africa Tourism Corporate site. Users can choose different itineraries (such as a 7 day trip in Cape Town) or themes, like "Road Trip" for example. These links then direct them to an itinerary section or the top 10 road trip section on the South Africa Tourism website.
» A fresh, interactive Q&A facility, driven by users and answered by users.
» A weather section tracking the weather in the top 50 South African cities (by population)
» RSS feed of news stories that link directly back to the South Africa Tourism website, allowing both brands to share traffic.
» The campaign has also linked to Facebook, whereby users can post a link on their Facebook profile page to their favorite video or image on www.mysouthafrica.tv

By encouraging users to upload their own stories, tag favorite photos and videos, and seek more information about travel to South Africa, the site has become a multi-level endorsement that allows South Africa to be showcased for its visitors, by its visitors.

Worldwide Best Practices: Destination branding is not an exact science; however, other markets can use this example as a template to either create a brand image, or establish an existing brand on a global platform. Replicating this specific program in other markets depends on the lifecycle of the nation brand and the audience profile. The lesson from My South Africa is that it allows the audience to "own" a large part of the messaging. It can be incredibly rewarding to have consumers endorsing your brand. The key is to keep these messages fresh, involve the audience throughout the process, and make the most of the online medium.
Results: The success of the campaign is being measured on the level of engagement it instigates with target audiences, its ability to stimulate dialogue and prompt action. The site has attracted visits from 157 countries and these users have communicated in 65 different languages. Traffic showing that 86% of visitors are new and 14% are returning visitors. The average user spends a minimum of 20 minutes on the site and views more than 13 site pages.