SILVER WINNER: Jaeger-LeCoultre "Tides of Time"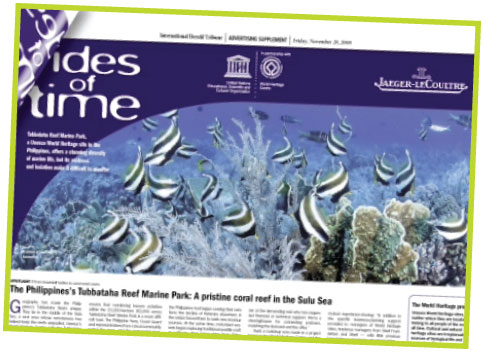 Client: Jaeger-LeCoultre
Entrant Company: Internationalist Herald Tribune (New York Times Media Group)
Entry Category: A Global or Multinational campaign running in several regions
Names to be credited with submission:
Eyeblaster: Arnaud Vigneau | Client Services Director, Eric Boquet | Managing Director France, Jean-Philippe Mongin | Senior Account Manager, Matthias Ferriere | Creative Specialist
New York Times Media Group: Elizabeth Séqué, Stephanie de Longevialle, Delphine Dhenin, Reine-Marie Melvin, Greig Stevens, Kate Goldvasser, Véronique Feldmann
Freelance: Joshua Jampol, writer, voice direction and voice-over, Manuel de Oliveira, video production, Alexandre Soubrier, flash animator
Unesco: Joanna Serna-Sulliva, World Heritage Partnerships for Conservation, Marc Patry, Laura Berdejo
Jaeger-LeCoultre: Lydie Foulon, Gwenaelle Pourcelot
Zenith: Online: Olivia Hue de la Colombe, Bérangère Boulon, Print: Annabelle Gripon, Golnaz Zarghami, Sandrine Grognu
Marketing Situation: Luxury watchmaker Jaeger-LeCoultre was exploring options to showcase its range of Master Compressor Diving watches, while also highlighting its global initiatives to raise awareness of environmental issues. Media partner, The International Herald Tribune, identified an additional synergy with Unesco (United Nations Educational, Scientific and Cultural Organization), with whom it has a long-standing relationship. The IHT devised a three-party partnership with Jaeger-LeCoultre and Unesco's World Heritage Marine Program that formed an essential underpinning of Jaeger-LeCoultre's multimedia communications strategy.
Each partner's commitment to environmental issues would enhance campaign values:
» Jaeger-LeCoultre's global strategy includes the `Making Time More Beautiful' initiative which helps counter threats to the planet;
» Unesco's World Heritage program identifies, protects and preserves natural and cultural properties;
» The IHT has committed significantly to its journalistic coverage of environmental issues.

Insights: The campaign was built around multiple endangered marine sites, selected by the IHT, to heighten readers' understanding of the Unesco World Heritage Marine Program. The sites were presented to readers in both print and digital formats, focusing on video. The choice of sites was based on their proximity to Jaeger-LeCoultre's key markets in Latin America, Asia and Europe.
An innovative partnership was established — all stakeholders committed to a three-year partnership — which encouraged close collaboration to ensure that the campaign objectives were met via high-quality, consistent messaging.
Digital Strategy: "Tides of Times," was a fully integrated communications concept, enabling readers to access content online or in print, with cross-promotion between all platforms, providing opportunity for deeper reading and interaction.
This pioneering level of interaction between client, media owner and third party is unusual and in this case, nurtured a successful, flexible campaign where each party was able to continuously optimize it by imparting its expertise.
Online: Content was formatted into user-initiated expandable Nano-site ad units, comprising interactive news features, profiles, video reports and interviews. The direct-to-user Nano-sites ensured users remained on global.nytimes.com and NYTimes.com, increasing interaction rates and viewership.
Print: In year one, eight full-page advertising supplements appeared inside the IHT. Each introduced a different marine heritage site, featured interviews with conservation experts and descriptions of preservation projects.
Embedded within the supplements were messages about Jaeger-LeCoultre's corporate social responsibility initiatives. Each supplement carried a display advertisement promoting the Master Compressor Diving watches range.
Integrated, cross-platform pre-promotion of the supplements was carried out by all partners. Teaser ads in the IHT, on global.nytimes.com and NYTimes.com appeared in conjunction with a newsletter sent by Jaeger-LeCoultre to trade publications, as well as pre-promotion on the Jaeger-LeCoultre and Unesco Web sites.

Worldwide Best Practices: After the campaign started the financial crisis hit, reinforcing the importance of CSR projects and the fact that the benefits they bring hold significant value, alongside product sales. The campaign has clearly illustrated how CSR projects can generate revenue which can be fed back into the central project: When Jaeger-LeCoultre decided to auction off two of its prestigious watches, and use the revenue to provide funding to one of Unesco's endangered marine sites, it illustrated the significant role CSR plays in the overall business strategy.
Results:The strength and global reach of the "Tides of Time" campaign enabled Jaeger-LeCoultre's PR team to build it into an international media outreach program resulting in wide coverage in consumer and trade publications (e.g. LA Times, La Revue des Montres);
» Following the media outreach, the success of the communications concept led Jaeger-LeCoultre to create a limited edition "Tides of Time" watch, launched at the prestigious SIHH (Salon International de la Haute Horlogerie).
» New funding was mobilized for the World Heritage Marine Program through the online auction on the Jaeger-LeCoultre Web site of the "Tides of Time" watch.
» A franchise extension, in the form of a "Tides of Time" coffee table book sent to partner contacts, illustrated the subsequent benefits of the campaign.
» The campaign promoted the conservation message to an influential, international audience increasing visibility of Unesco's mandate.