GOLD: My South Africa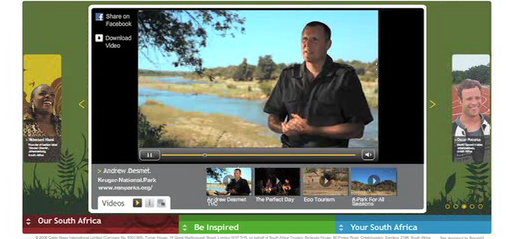 Client: South African Tourism
Submitted by:CNN International
Campaign Title: My South Africa
The Challenge:
South Africa Tourism was looking for a digital solution that was innovative enough to stand out in a crowded and increasingly competitive marketplace. The campaign needed to promote South Africa, in a believable, achievable persuasive package that would inspire people to travel to the country.
Central to the campaign was the idea that South Africa remains a land of immense diversity where people make choices based on their individual nature and needs. We needed an engaging communications campaign that would offer our audience a vehicle for their own storytelling and fuel their desire to experience South Africa. In 2009/2010 the challenge was to extend the campaign beyond the limitations of an interactive website onto other media platforms.
The end goal was to increase tourists' attraction to football and the country and plan a trip to visit during or after the World Cup. The long term goal was for South Africa to create awareness for the 2010 World Cup tournament and in doing so, achieve preferred destination brand status by 2014.

Digital Strategy:
In 2010, the My South Africa campaign entered its third year and was extended onto a further media platform when the My South Africa essentials iPhone Application was launched.

The insight for the campaign remained consistent as we still needed to expose South Africa to potential visitors on a worldwide scale, by building awareness and stimulating action. The campaign had to have a global reach to extend the footprint of South Africa outside of its borders while being catchy enough to travel by word-of-mouth association.
The iPhone Application was an extension of the MySouthAfrica.tv interactive community – and it was also built to offer travel advice, tips and maps. The My South Africa campaign needed to grow from a social media platform, into an indispensible travel resource that someone visiting South Africa could not do without. The campaign elements needed to be flexible enough to leverage with other South African Tourism initiatives as well as have enough staying power to evolve over time.
Results:
The 'My South Africa essentials' iPhone application has been downloaded so frequently that it is featured on Apple's 'New and Noteworthy' and 'Top Free Travel Apps' Top Ten Charts.
Plus, the My South Africa site statistics speak to the campaign's incredible success. One new site registration for every 12 visits and an average of one new upload for every 8 visitors. The average user spent an average of 24 minutes on the site and viewed more than 19 pages.
The site has had visits from 175 countries. The campaign has engaged people from all over the world to contribute to the global conversation on South Africa.