BRONZE: Rexona
Client: Rexona, a Unilever Brand
Submitted By: PHD, Shanghai
Campaign Title: World Cup Soccer City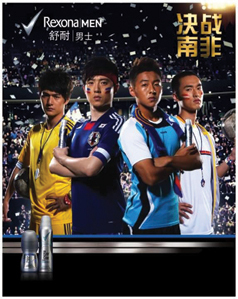 In 2011, Rexona will advertise to men for the first time in China. As a precursor to breaking into the male grooming category we needed to shift perceptions of the brand from being female only.
We identified the 2010 FIFA World Cup as a perfect opportunity to drive category awareness and build brand credentials amongst males. We developed a 3-week content-led campaign that started during the World Cup quarter finals and followed four Chinese football super-fans from China to South Africa where they competed in a series of World Cup challenges for the chance to attend the World Cup final match. A great story.
We not only had to identify online environments where World Cup enthusiasts congregate but more so to infiltrate their lively exchanges, predictions and story-telling during the World Cup tournament. The content generated existed on a minisite, was delivered through video-blog format, and we put it in the hands of enthusiasts through Sina and Tudou with a reward mechanism to drive interest.
  In conjunction with a tailored SEM strategy, the campaign delivered huge numbers of viewers and participants in only a 3 week period. The campaign took a brand new to the male grooming category, not directly relevant to football, and demonstrated huge consumer engagement.