BRONZE: Lipton, a Unilever Brand
Client: Lipton
Submitted By: PHD, Shanghai
Campaign Title: Virtual Social Talk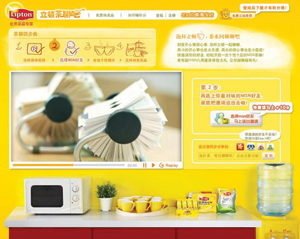 Finding new ways to bring people together has always been central to Lipton's progressive and energetic brand personality. With Lipton's core consumers spending most of their day in an office environment, we wanted to find a new method to connect with our audience and strengthen Lipton's role in their lives within the office context.
Lipton used the MSN Instant Messenger system, the most popular IM for office chat, to play three roles – to generate video invitations, to stream videos in the same space and to host a live chat alongside it. This created a very natural environment in which consumers could engage with each other with the brand playing an enabling role.
In an innovative digital first for China, the Virtual Social Talk campaign became one of Lipton highlights of the year, delivering in just seven short weeks over 1 billion total impressions and delivering over 4.4 million clicks on their campaign minisite with 3.8 million page views from 2.8 million unique visits.