Grand Prix: Samsung LED 3D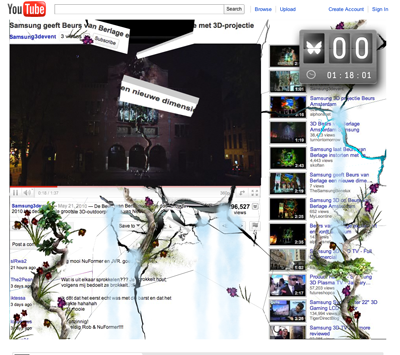 Client: Samsung LED 3D
Submitted by:Starcom Amsterdam
Campaign Title: Amsterdam projection mapping
The Challenge:
To build a strong market position within the 3D TV segment for Samsung and consequently show market share and product sales increases within the CTV category.
In order to deliver a truly unique and impressive activation within this category, it was important to transform the web experience of the end users, retailers and media professionals. Samsung needed to go beyond traditional product information to create a deeper emotional relationship.

Digital Strategy:
There's nothing quite like the 3D experience. Samsung's 3D LED TV line would be the first-of-its-kind and it needed to make an immediate impact – positioning Samsung as the owner of the 3D home experience.
Starcom Netherlands created the first large-scale commercial 3D-projection mapping at the historic Beurs van Berlage in the Netherlands by using 3D technology in an unconventional and striking environment, while integrating it with location based / social media to build a live audience. (http://www.youtube.com/Samsung3devent)
The goal was to deliver an innovative user experience that allowed both a mass audience and early adopters to participate in a unique event, while generating valuable content across channels and conveying the features of the Samsung 3D LED TV.
For three nights, the projection interacted with the architecture of the building, and viewers were treated to an incredible 3D audiovisual experience. The projection interacts with the historic architecture of the Beurs van Berlage, taking viewers into an alternate reality in which the building exposes some of its mysteries inside.
On the adjacent square, visitors were able to try out the new Samsung 3D LED TVs and were offered a chance to win one of their own every night. Foursquare, YouTube and Dutch Startup Feest.je (Dutch FourSquare) are part of the integrated campaign.
Results:
The campaign started with an outdoor event. The projection was filmed by many viewers and countless videos have been seen all over the world, forwarded from person to person via YouTube, and placed on numerous blogs.
The 3D-megaprojection was translated to the first-ever worldwide YouTube game-take-over, where the video content is brought to life by allowing user interaction.
Research by MeMo2 verified that 18% of the Dutch population had seen or read about the Samsung 3D projection mapping. This represents roughly 2 million Dutch people, although just 1,000 spectators were live at the event!
Samsung increased its LCD and LED TV market share significantly in the Netherlands, while retail tracking loyalty reports showed new brand preference for Samsung.­