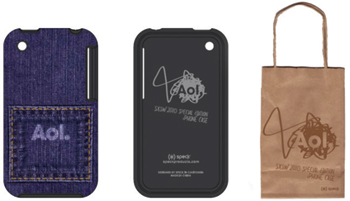 SILVER —AOL
"The Activation of AOL at SXSW"
Entrant Company: Initiative

Category: A Local Brand or Service in a Local Market with innovative media solutions worthy of international adaptation or world class standards

Credits:

Initiative:
Dave Rosner, SVP/ Director of Innovations
Kenton Langstroth, Producer on Innovations
Jonathan Gipson, Assistant Project Manager on Innovations.


MARKETING SITUATION: After years of no consumer messaging, AOL, formerly known as the global Internet titan America Online, had been at best forgotten and was being at worst considered irrelevant. AOL needed to be "re-introduced" to a modem generation of savvy tech consumers and experts. Tbe challenge was how to do so without overstepping what consumers would accept from the older Internet brand while simultaneously delivering a new AOL that was to be seen as innovative and future ready. AOL needed to address the expetts head on with a re-introduction to the most critical, progressive technological audience at one of the largest new media and music events in the United States, South by South West (SXSW).
In order to generate the impact needed, AOL had to be more than a sponsor at SXSW, they needed to be an organic part of the experience. Ultimately, AOL needed to bring it's key digital brands to life by having them own specific parts of the SXSW experience, laddering positive associations of their web properties back to the parent brand.

INSIGHTS: AOL is a parent brand with a portfolio of diverse websites. People had no associations with the parent brand and the digital sites in their portfolio (Spinner, Seed, MapQuest). Initiative conducted an exhaustive review of major technology tent pole events for AOL's brand re-introduction. From this review, SXSW, the pre-eminent music and technology conference in Austin, Texas, emerged as the forum with the most appropriate platforms for activation. We conducted research on the consumer experience at SXSW and identified various roles that AOL could play there. By utilizing social media listening software, we monitored the conversations taking place around SXSW online. From this conversation tracking, we uncovered that the annual March festival has conversations taking place about the event all year round. The key insight that emerged: SXSW is always "on", building a media strategy around integrating AOL into a forum that has a proven reputation of being popular and progressive.

MEDIA TACTICS: Innovations, the creative thinking media team at Initiative, designed multiple innovative groundactivations
that allowed AOL to enhance the SXSW attendee experience. Innovations integrated AOL' s digital products into the official SXSW digital experience. At the festival, a range of activations were combined to leverage an organic integration. AOL' s MapQuest provided the mapping technology online, kicking out their competitors. At the festival, secret unexpected shows by top music acts occurred in unexpected places, like local bicycle stores. HD video projections of the AOL logo and branded AOL artistry were projected in various outdoor locations. We also went beyond traditional media by creating coveted, custom merchandise, such as collectable iPhone cases, through the first of kind partnership with a top design firm in the U.S. Additionally, we arranged for branded AOL rickshaws to be on the ground to enhance the attendee travel experience and address the SXSW mobility problem.

SOLUTION FOR WORLD CLASS STANDARDS: Innovations illustrated the correct way for a brand to act and execute at a festival by having
organic activations that permeated the depth of the attendee experience. This campaign serves as a world class marketing template as it shows an older brand embracing modem times and providing various forms of consumer utility to a tech savvy audience. Brands should be more prone to assisting consumers with their assets and properties whenever they can, as opposed to merely injecting themselves into their
environments and disrupting their lives. AOL was able to help a specific influencing audience navigate and move around an experience they consider a pilgrimage and mecca. Seamless integration, brand utility and progressive-thinking are the key messages that brands should take away from AOL activating at SXSW 2010, as the consumer's world is rapidly changing and placing more demands on them, brands can
step up and help in meaningful ways.

RESULTS: The goal of this campaign was to re-introduce AOL to a tech savvy audience, in a positive and natural way. The SXSW 2010 activation was recoguized as a huge success by AOL, so much that they have already committed to bringing it back next year. This can be considered a tremendous victory, considering how precarious it can be to bring an older brand to a tech conference. In order to track the buzz around AOL being at SXSW, online conversation monitoring of social forums were conducted throughout the activation period and beyond, as well as traffic to AOL' s digital sites. Traffic was tripled to AOL' s key music property "Spinner. com" in the quarter after SXSW took place. The Twitter handle "Spinner SXSW" that was created for attendees to post their opinions to throughout the event received a 20% increase in traffic from Q4 2009 to Ql 2010. Overall, there was a 45% increase in conversation for AOL brands on social media properties and a 94% increase in positive sentiment for AOL and it's digital products. The activation garnered tremendous press from tech sites and bloggers, with an added value of the custom AOL iPhone cases being sold on eBay for 3X their value.