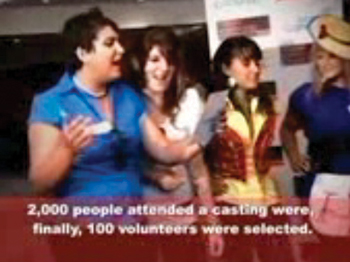 GOLD — Canary Islands Tourism
"Say No to Winter Blues"
Entrant Company: PHD Spain

Category: A Regional campaign.

Credits:
PHD Spain: Pablo Alonso, Managing Director Cesar Barral, Strategy Director Juan Mari, Business Development Director
The Situation: With 60% of GDP depending on income from tourism, the Canary Islands were facing a real crisis in 2009. The global economic situation meant that fewer holidays were being taken, and cheaper alternative locations were gaining market share. In addition, tourists from Great Britain represent the biggest market for the Canary Islands, but a sharp fall in the value of the British Pound vs. the Euro meant that bookings had declined significantly since 2008. It was clear that the Canary Islands needed to undertake activity to boost its profile amongst holidaymakers. With budget reduced by 58% year on year, the activity would clearly have to punch above its weight. And results would need to be immediate.

Insight and Strategic Approach: Research has shown that most Northern European countries suffer from a long and tough winters that affect people both emotionally and physically. Called the Winter Blues, the condition has a negative effect on work and the way people feel. The key insight that fed the media strategy was that a visit to the Canary Islands is more than just a holiday, it's a means to overcome the negative feelings that winter brings. The solution was a simple one: Canary Islands "Says No to Winter Blues." This broad awareness campaign would generate awareness, prioritizing the destination in a meaningful way in our target audience's minds, without the need to resort to short term promotions and price reductions.
Media Tactics: In order to achieve our aim we created a new communication channel: the young people of the Canary Islands. They would be the primary channel through which to spread our message.
We recruited young Canary Island ambassadors who became our communication channel, spreading the idea of Say No to Winter Blues through a social movement online and offline taking our message from the Canary Islands to Europe. Recruitment took place in Canary Island universities searching out multilingual digital natives, who were active in social media and blogging and who were free to travel. From thousands of visitors to the website, 100 ambassadors were selected and told to meet at the airport on a certain date.
There they discovered their first destination: Iceland. Iceland symbolizes the ultimate winter blues region, with freezing cold temperatures and little daylight in winter. Our ambassadors arrived in Reykjavik carrying 10,000 bottles with a message inside: the Canary Islands love Iceland - and an invitation to join them in their crusade to Say No to Winter Blues.
The ambassadors generated news on main channels and created content on social media sites and blogs. 200 Icelanders flew back to the Canary Islands to experience the country for the first time. Our ambassadors also visited UK, Germany, Denmark and Sweden recruiting 100 more volunteers in each country they visited.
In media terms the Say No to Winter Blues message focused on the SAD hours (from sunset to sunrise) appearing in free morning and evening newspapers. We placed ads on weather pages (especially around poor weather reports) with our message about the Canary Islands and how to Say No to Winter Blues. We used transport advertising and digital outdoor in the main European capitals and around the biggest tourist events
How this Campaign may be a Template for World Class Standards
The campaign highlights how social media can be harnessed alongside more traditional media channels to create a campaign generating far greater reach and impact. The Canary Islands ambassadors connected with people in Northern European countries and gave them a real reason to Say No to Winter Blues. The results were fantastic. This success occurs when all communications elements are planned together – a real lessons for marketers and agencies.

Results:
Media results
The campaign generated 253 million impressions in the main audited markets (UK, Germany, Sweden, Denmark and Spain). The Ambassadors made 428 appearances on TV and in the press. 728 bloggers talked about it.
Commercial results
Canary Islands attracted more visitors in February 2010 than Spain in the first quarter of the year. Hotel bookings increased 15% in the first quarter of 2010 and 69,000 more tourists arrived in the Canary Islands in the first quarter of the year.
Tourism campaigns usually achieve results in the long term. Say No to Winter Blues, achieved an immediate response and great sales results thanks to the Canary Island ambassadors who were the lead communications channel.