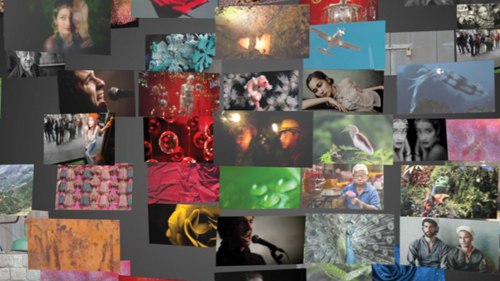 SILVER — Canon "Take Stories"
Entrant Company: PHD International

Category:
A Multinational campaign in any one region of the world, such as Europe, Latin America, Middle East, Asia, etc. (Pan-European)
Credits:
Natalie Morris, Group International Account Director, PHD
Sophie Bingham, International Account Director, PHD
Cristel Stol, Campaigns Professional, Canon
Nigel Taylor, Head of Marcomms, Canon
The Situation: While Canon has 98% awareness and is perceived as an innovative technology brand, they miss an emotional connection with consumers which hinders purchase consideration. There is also a lack of understanding of camera technology, in general, amongst the mass consumer set. While consumers say they like the idea of having a camera with multiple features, very few actually know how and when to use them, making it difficult for Canon to justify their premium price.
For the pre-Christmas period, our brief was to support five products on a Pan-European level:
- DSC (entry-mid level category) – IXUS and Powershot
- DSLR (mid-professional category) – EOS Range - 500D, 7D, and 5D MK II

Insight and Strategic Approach: To build an emotional association with the brand and help educate audiences about Canon's products and features, our Thoughtleader was to: "Inspire creativity and storytelling". For the campaign and for each of the products, a person (an everyday "man on the street" most likely to use the given product) was identified to share their experience using the camera and its features through storytelling photos. A "Take stories" microsite was developed to showcase full length features and tutorials with each of the characters and products.

Media Tactics: To inspire and educate, we identified media partners based on editorial environments most relevant to the potential consumer of the given product. For example:
For the EOS range, pro-summer audience, we partnered with the Guardian eyewitness for the launch of their "Eyewitness iPad application" which was based on the news of the day told through striking imagery. We integrated the EOS range by featuring a "pro photo tip" for each photo displayed. This was met with huge success as Steve Jobs shared this in his iPad keynote speech and it has seen over 120,000 downloads.
For the 5D MK II (featuring Richard, high end amateur wildlife photographer) – we partnered with Life.com to create media first "push-down" units to showcase behind the scenes footage of the making of commercial which featured Richard shooting extreme sport in action. With National Geographic, we developed a bespoke microsite for the 7D called "A Unique Story" which featured tutorials by Fergus Kennedy, wildlife photographer and 7D Ambassador.
For IXUS (featuring Sophie, a young urban female) - we positioned it as the ultimate accessory in design and fashion and partnered with Cosmopolitan magazine to create a competition where users submitted their own "Take Story" photos.
To cover all of the products, we worked with MSN to create a 3D interactive cube which allowed us to showcase each of the 5 products and stories. Users were able to play the "Take Stories" microsite videos within the cube and click for further information.
To capture audiences researching cameras on product review sites, we developed a media first with Trusted Reviews, creating a Canon "hub" within the site which featured reviews for all Canon cameras.
How this Campaign may be a Template for World Class Standards
The campaign focused on innovation at its core, all activity was centered on media first opportunities such as the 3D cube and 'Canon review hub' where we aligned Canon with cutting edge communications solutions in order to stand out from the competitors.
The launch of the ipad app was released in line with the official ipad launch, so we could leverage the first mover advantage and increase downloads, with the added endorsement of Steve Job's key-note speech.
The media activity represented a multi touchpoint solution utilising all media channels; TV, print, online, out of home, social media and events. The content created throughout the campaign allowed for longevity with the best competition entries being used for publication once the media had concluded.

Results: Engagement versus reach was our key metric for the campaign which produced outstanding results. In just eight weeks Canon received more than 500,000 visits by photography enthusiasts to the 'Take Stories' microsite with users spending 2 minutes on average engaging with content. The competitions held in conjunction with media partners also received over 100,000 entries in total, with both DSC and DSLR categories experiencing market share growth during the campaign period.