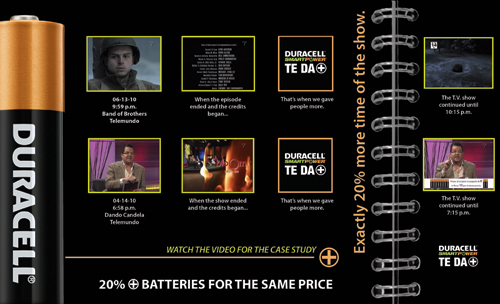 SILVER — Duracell
(Procter & Gamble) "20% More"
Entrant Company: Starcom Puerto Rico

Category: A Local execution of a Multinational campaign
Credits:
Alejandro Rosado, Innovation Director- Starcom Puerto Rico
Diana García, General Manager- Starcom Puerto Rico
The Situation: For the past 3 years Duracell has experienced a declining share trend at the expense of other brands and Private Labels, due to potential value erosion. As a consequence, Duracell needed to develop a relevant strategy that could help the brand continue to drive the VALUE message to regain brand consumers, especially those who have left the franchise in favor of a private label. At the end, we need to communicate that now the most popular packs of our AA or AAA's give you 20% more batteries for the same price. Drive incremental volume and sales was the name of show.
Insight and Strategic Approach: The battery consumer is a brand switcher and is always looking for value, but doesn't always recognize that a higher price may provide greater value in terms of battery life.

Media Tactics: Duracell needed to show special empathy with its target, reminding them of the importance of been a smart shopper by capitalizing on the most sacred moment of their lives: WATCHING TV!!! Duracell is the brand that preserves entertainment and enables the target to celebrate and enjoy that important moment. In this world of buy 1 get 1 free, 2 for 1 coupon and 50% off any item, there is a real race for 'getting your best offer out there' We decided not just to say it, but make consumers feel it ... we wanted to engage our target into a unique experience that could have been relevant to the consumer and consistent with the brand image.
That's why we took advantage of the most important hobby of the target, watching TV, and communicate that with Duracell, you can actually get more than you pay for. Because, now the most popular packs of our AA or AAA's give you 20% more batteries for the same price. We persuaded TV channels to do something that TV networks would never do: When the episode/show ended and the credits began ... that's when we gave people more. Exactly 20% more time of the show. This campaign offered the ultimate deal- enjoy a bit more of their FAVORITE TV SHOW and not wait until next day or week to see it. This was done at TV series, entertainment gossip shows, movies, soap operas and local comedy shows. This, coupled two things ... showcased Duracell's value message (The most popular packs give you 20% more batteries for the same price) and instantly won the hearts of the target by providing them the perfect excuse to continue enjoying their favorite show in a meaningful and rewarding way. At the end, we constantly reminded people that the differences between ordinary and extraordinary are the little extras!!!
How this Campaign may be a Template for World Class Standards
In these times where there is a war of prices and discounts you have to present your best offer. We decided to communicate in a "real" way ... Duracell actually give you more, not only better prices and offers, but it will give more of what the target enjoys most: YOUR FAVORITE TV SHOW!

Results:
The campaign caught the attention of the media and spread over the Internet and throughout the country, generating great visibility for the brand and reaching great number of potential consumers. In the following months the brand's top-of-mind awareness increased to 61%. As a result, Duracell was turned into the universal source of power for Puerto Rican consumer increasing its share to almost 46%. Confirming once again, that when it comes to trust, feeling is believing.