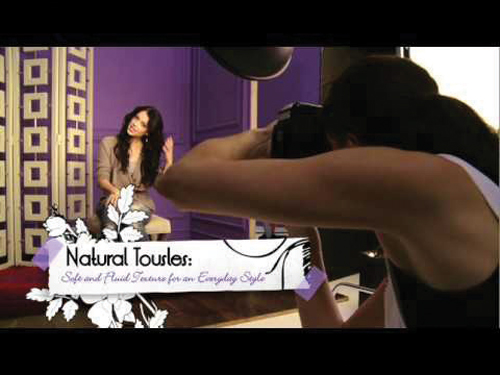 SILVER — Herbal Essences
(Procter & Gamble) "On the Rise"
Entrant Company: SMG United

Category: A Local execution of a Multinational campaign.
Credits:
Alicia Lisowski, SMG United
Jaime Garland, SMG United
Myrna Villarreal SMG United
Chris Dorne, Liquid Thread
Elyssa Starkman, Liquid Thread
Alycia Moller, Starcom P&G Print AOR
The Situation: Grow market share when Competitor outspends us 2x In a always changing hair care environment (where achieving the latest style is of upmost importance), Herbal Essences sought to launch Tousle Me Softly, a new collection designed to help women achieve a beach-inspired "tousled look" that was hot with trend-setters and celebrities. However, the brand's top competitor, was launching a similar product, and would outspend Herbal Essences by a nearly 2:1 ratio.
Appeal to bi-cultural Latinas, while still identifying with the General Market While Herbal Essence has done a great job appealing to young and trendy women, the brand saw great potential in appealing more directly to bi-cultural Latinas who purchase styling products at a much higher rate, but were currently underserved through retrofitted general market advertising. Like our general market target, Latinas look to celebrities for fashion and hairstyle ideas. However, many Latinas had a hard time seeing themselves in general market advertising because the celebrities, quite frankly, didn't look like them. Without the budget to create a Hispanic-specific marketing campaign, we needed to create a viable general market campaign that could boost share across all markets while driving Latino household penetration and relevance.
Insight and Strategic Approach: Latinas consider beautiful hair to be a symbol of success in America For a Latina woman, a hairstyle is more than just an image, it's an icon of femininity that can reflect her status in life – it gets her notice and respect. Her role models are those she secretly desires to be, a woman who has "made it" in mainstream America, but hasn't lost touch with her Latina roots. Unfortunately, there are few role models in Hollywood who can straddle both worlds; achieving fame and fortune while staying connected to her heritage. She doesn't identify with the fully Spanish-speaking (and overly dramatic) telenovela stars, nor does she see herself in other mainstream celebrities.
Find a rising star who appeals to the general market while being uniquely relevant to Latinas We needed a celebrity who could reach the cultural needs of Latinas and remain relatable to the general market at a low cost. To star in our Tousle Me Softly launch, we tapped an up-and-coming celebrity originally from Puerto Rico who was just starting to gain mass appeal: Jadyn Maria. She had exactly what we were looking for: good looks, lush tousled hair, incredible talent and the right connections. She was relatable and aspirational at the same time. Such universal appeal for ALL women (including Latinas) allowed us greater efficiency in custom content development, as well as an ownable program that our competitor couldn't adopt. Understanding that bi-cultural women straddle both cultures in their media consumption, we told her story across both English-language and Spanish-language outlets.

Media Tactics: Using cross-cultural content and media to track a rising star's journey to fame With our limited budget, we turned to a media partner to create content that could live across video, print and digital. First, we enlisted Glamour magazine– a mainstream magazine with a high bilingual readership – to help us produce, develop and distribute video and still content that showcased Jadyn Maria's journey to fame, touring and recording with platinum R&B artist Ne-Yo. The footage appeared first on Glamour's website and in print, and then was edited into shorter episodes (running two to five minutes) that gave a greater focus on Jadyn's Latina roots. We aired these segments in episodic style on hit shows on the bilingual networks MTV3 and SiTV, creating a "series within a series."
The program offered the perfect marriage of Content (Jadyn Maria), Contact (bi-lingual networks), and Context (contextually relevant placements within music programming) to boost Herbal's relevancy with the bi-lingual consumer. By fluidly shifting across print, digital and television channels, we showed the range of Jadyn's "tousled look" hairstyles (from casual to flirty) and also included our own celebrity stylist to give tips on how to get her trendy look.
How this Campaign may be a Template for World Class Standards
This work is a great example of how to target a multicultural audience by understanding the cultural situations they face every day. By utilizing an existing media partnership with Glamour magazine, Herbal Essences' campaign delivered the story of Jaydn Maria a woman rising fame in the mainstream culture and staying true to her Puerto Rican heritage. Mini-episodes were created featuring Jadyn's steps to stardom and her many looks, all while using Tousle Me Softly to create them.

Results:
With the Tousle Me Softly launch as the only major activity, Herbal Essences' overall styling business increased 49% - creating carry over effect to other Herbal products.
Household penetration against U.S. Hispanics increased 7% between 2008 to 2009.

In P&G tracking studies, the Jadyn campaign ranked #3 among all 77 measured advertisements for Recall (78%) and product was #1 for purchase likelihood across all Hair Care brands.