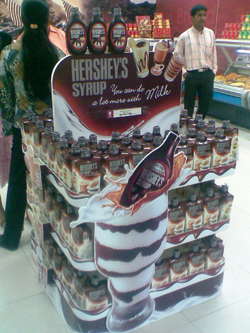 SILVER — Hershey's Syrup Company: Godrej Hershey Limited,
Mumbai, India
"You can do more with milk"
Entrant Company: DMA Yellow Works/ Godrej Hershey Limited

Category: A Local execution of a Multinational campaign
Credits:
Manohar Kumar: Godrej Hershey Limited, India
Priyanka Raghavan: DMA Yellow Works, India
Prashant Shingade: DMA Yellow Works, India
Rakesh Vaswani: DMA Yellow Works, India
The Situation: Hershey's Syrup was launched in India July 2009. The brand initially appealed to a niche group of internationally travelled consumers. The key issues facing the brand after launch were low brand awareness, and limited consumer knowledge about the various uses of Hershey's syrup. Even among those aware of the brand, there was infrequent usage – limited to dessert and ice-cream topping [special occasion], as such re-purchase rates were also low.
The marketing challenge was to increase usage/penetration among current consumers and convert non-users into users.
The communications strategy focused on making Hershey's Syrup more than a special occasion product, and creating meaningful everyday usage needs. Educating consumers about usage opportunities was another critical component of the communications and media strategy.
Insight and Strategic Approach: An in-depth immersion into the Chocolate additive market and the Hershey's Syrup consumer base identified 3 types of consumers:
a. Hershey's Syrup purchase frequency- 45 day cycle
b. Hershey's Syrup purchase frequency - greater than 45 days
c. Hershey's Syrup purchase frequency - greater than 90 days
Research revealed that consumers purchasing most frequently [45 days] were using the chocolate syrup with milk. Milk is an everyday beverage and milk consumption in India is very high [approximately fifty one million liters of milk are consumed every month in India.].
Research also indicated that a subset of the core Hershey's consumer base [mothers with children] was highly predisposed to creating new and tempting experiences for their children and families. They were struggling to get their children to drink one glass of milk a day, and were using various techniques to make milk more appealing to their children. These two critical insights propelled the communications strategy to anchor Hershey's Syrup with milk.

Media Tactics: The initial communications plan outlined a traditional mass media campaign to build awareness and stimulate usage. However, a mass media campaign, although effective for building awareness, would not have efficiently targeted the core consumer with the frequency required to drive usage. Moreover the advertising budgets were limited.
Mothers with children are highly involved in purchase decisions - they seek information, education about products. The Hershey's Syrup core target group, self identified themselves as seekers of 'innovation in food and beverages'. Once convinced, these consumers become active brand advocates.
The Hershey's media strategy was honed to reaching the right consumers, at the right place -the retail environment and through packaging innovation [as media vehicle].
Innovation began with the creation of a PRINT AD for Hershey's Syrup that opened up the possibilities of Hershey's Syrup + Milk. The tag line hook was anchored around the idea of propelling milk usage with the help of Hershey's Syrup. The tagline as such was "You can do a lot more with milk". A message that was simple & straight while focusing on the core consumer insight about mother's struggling to get children to drink milk and also addressing the product challenge of expanding beyond special occasion usage.
The print ad was crafted and wrapped around the bottle without altering the iconic bottle structure of Hershey's syrup. This secondary "wrap" identified the new and delightful 'milk' preparations that are possible with Hershey's syrup + Milk, and the ease with which mothers could get their children to drink a second glass of milk in a day.
A well designed and free recipe booklet was inserted into the box as an educational tool and a guide to increasing usage.
Fun and attractive FSUs and retail aids complemented and strengthened the media innovation and drove consumers to the brand.
Results:
Sales doubled since the launch Hershey's syrup repurchase rate came down to less than a 50 day cycle from a 75 day cycle