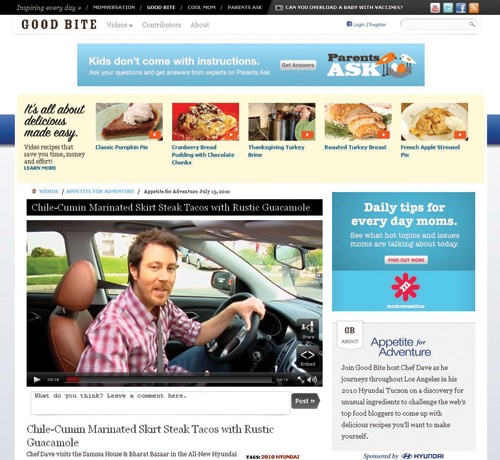 Hyundai Motor America — "Appetite for Adventure"
Entrant Company: Initiative

Category: A Local Brand or Service in a Local Market with innovative media solutions worthy of international adaptation or world class standards

Credits:
Initiative:
Jason Deal, Arthur Yu, Sejal Patel, Shane Rodack

lnnocean Worldwide: Andrew Reizuch, Mike Davis, Bhavini Patel, Jessica Racioppo Freeman
DECA:
Kyle LaBrache, Eileen Levinson, lshe Gathers, Beth Le Manach, Sean Ryan,
Johnnie Novello, Jennifer McDonnell, Chris Kimbell
With the task of launching its first CUV (Compact Utility Vehicle) in a market already dominated by products from leading competitors such as Toyota's RAV4 and Honda's CRV, Hyundai was not only able to gain entry but champion the CUV sector. By utilizing valuable consumer research from MRI, Simmons and JD Power, Hyundai was able to determine that cooking enthusiasts comprise a significant portion of CUV consumers. Thus, Hyundai partnered with cooking blog Goodbite.com to generate a culinary video series known as "Appetite for Adventure", which followed the culinary explorations of Chef David Lawrence in his 2010 Hyundai Tuscon. Each video highlighted a specific feature of the Tuscon while providing links to Hyundai's facebook page and offering new Tuscon branded recipies. Since launching the series, Hyundai has reached over 1.5 Million viewers and has become the #1 considered CUV on the market, a shining testiment to the value of matching a products with appropriate consumer tastes, which cearly continue to vary internationally. In doing so, Hyundai doubled its projected CUV sales, besting its two closest competitors. Bravo!