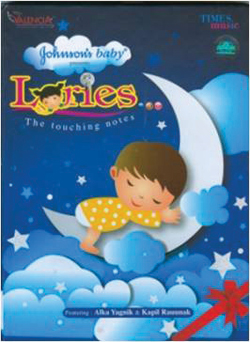 Bronze — Johnson & Johnson
"Johnson's Baby Lories (Lullabies)"
Entrant Company: Media Experts, Canada

Category: A Local Brand or Service in a Local Market with innovative media solutions worthy of international adaptation or of world class standards.

Credits:
Ajay Varghese – OMD India
Rashmee Bandela – J&J India
Vidhi Gupta – J&J India
The Situation: Johnson's Baby is recognized as the leading Baby care brand in India. Johnson's knows Babies best. However, the audience is a shifting base, and it is important to keep renewing brand bonds with new mothers. Our goal was to use differentiated innovative media to increase brand bonding with mothers.

Insight and Strategic Approach: New mothers are relatively "media dark" and reaching them through conventional media during the 1st few months of motherhood is not easy. Her whole life revolves around the baby's routine and her attention is completely focused on the baby during these months.
The solution was to try and be present in her life in a relevant manner, through media which touch her in this phase. Music still finds place and time in her life, albeit in a different form. Singing Lullabies (Lories in Indian parlance) is a common practice for mothers. While traditionally "lories" are passed down by word of mouth across generations; with nuclear families on the upswing, new mothers often find themselves at a loss on this.
The Idea: Create a Johnson's Baby Lories (Lullabies) Music CD, available commercially, which new mothers can play to make their babies sleep. This was a first in Indian Music History, where "lories" in various languages would be available off the shelf.

Media Tactics: Johnson's Baby partnered with Times Music- a leading music label in India to create and launch "Lories the touching notes". A leading Bollywood Playback singer Alka Yagnik sang the delightful lories. Radio City and Child Magazine were roped in as the radio and print partners to promote the album. Johnson's Baby was the presenting sponsor and benefitted from the entire multi-media promotion campaign befitting the album launch.
The Album was promoted with 600 spots on national television, 8 ads in the Times of India (leading daily newspaper), ads in Child Magazine, promos on Radio City, and via a contest in 9 cities which asked audiences to give their reason to gift a "Lories" hamper to their loved ones. Additionally, Outdoor billboards, and POS media promoted the album. The association got huge PR mileage for Johnson's Baby.
How this Campaign may be a Template for World Class Standards Created a completely new medium for Johnson's baby to bond with time-starved new mothers and touch them in a relevant manner and reinforced once again that Johnson's knows mothers and babies best.

Results: 10,000 Music CDs were sold in the first quarter alone, and there were 80,000 digital downloads. The multi-media promotion campaign reached out to more than 2 million people in the target group.