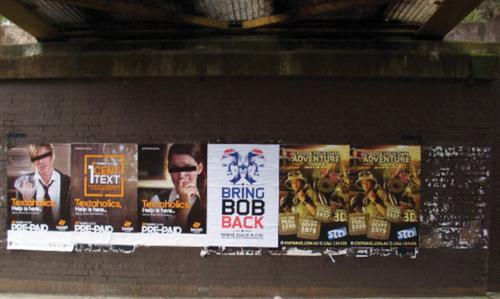 GOLD — Network Ten Sydney
"Bringing Bob Back"
Entrant Company: Starcom MediaVest, Sydney

Category: A Local Brand or Service in a Local Market with innovative media solutions worthy of international adaptation or of world class standards.
Credits:
Starcom MediaVest, Sydney:
Emma Montgomery, Strategy Director
Sue Kallas, Group Business Director
Rob Ishag, Senior Investor
Network Ten Sydney: Brigitte Slattery
The Situation: Network Ten Sydney is the market's youngest oriented free-to-air TV network, with just under half of its prime time audience less than 40 years old- a 15% higher "youth" composition that its' nearest commercial rival. Ten's programming strategy is strongly influenced by the preferences of this youthful audience.
Nonetheless, our task was to promote Hawke, a movie-length political drama documenting the rise and fall of Australia's 23rd Prime Minister, Bob Hawke, whose era of influence spanned 1983-1991. The regular Ten audience was too young to relate to these events, and the style of program was uncharacteristic of the network.
Despite these challenges, Ten's ambition for Hawke was sizeable, and as a one-off drama, there was no time or money to invest in audience building. Armed with a miniscule budget, the goal was to engage with Ten's audience so that Hawke would be unmissable.

Insight and Strategic Approach: Former PM Bob Hawke's time in office was a dynamic one in Australian political history, with the legacy of many of the policies enacted by this government remaining in place today.
However, pivotal to the legacy of the Hawke era was the charismatic Hawke himself. While in office, Bob Hawke held the record of the highest approval rating ever by an Australian Prime Minister, and this was as much to do with his personality as his policies. Hawke is renowned for holding a world record for beer sculling and for engaging in a torrid love affair with his biographer while in office. For everyday Australians, Hawke represented "one of us," not the elitist politicians they had been used to.
Yet, for Ten's primary audience of under 40's was unfamiliar with the man. For them, current-era politics was boring, bland and hardly polarizing. The perceived "sameness" of major parties had bred strong indifference, resulting in apathy for politics and politicians. People were simply not enamored of today's politicians.
To create interest and make the Hawke TV event a success, we needed to embrace our audience's brewing political apathy by re-enlightening them to the politics of old. We set out to generate nostalgia for the fiery politics of the past by harnessing our biggest asset—the colorful Bob Hawke himself.
Our strategy was simple, we would make the Hawke era relevant to a whole new generation by deliberately behaving as a counter-point to the current politicians they knew and loathed by involving them in a mock election to "Bring Bob Back."
Media Tactics: The typical route to market for a TV program is geared around announcement, harnessing media channels that are high-reaching to maximize awareness. Yet with such a tiny budget and an audience that was unlikely to take any notice, it was clear this approach would miss the mark. Instead we leveraged the reams of natural content available around Hawke and his legacy to create an active mock election campaign that involved, educated and interested our audience.
We took the campaign to the streets of Sydney: Bob's face was emblazoned on campaign street posters to generate intrigue. Promotional staff, who reflect the audience demographic, campaigned to "Bring Bob Back" on the streets and at key events where they distributed bumper stickers, flyers and merchandise to promote active participation in the campaign.
We made Hawke relevant in the media they rely on: A dedicated Facebook page was at the heart of our campaign. The "Bring Bob Back" page was used to highlight exciting stories about Hawke's time in office. Only the engaging content was selected to maximize appeal for an entirely new audience of young fans. YouTube videos of key moment in his political history and interactive quizzes for comparing Hawke to today's less loved politicians allowed us to inform by being entertaining.
We started conversations: The campaign grabbed the spotlight and was reported in the mainstream press, including rival TV networks which heightened awareness. Newspaper advertising helped to create a real election feel, but transit newspapers, a key read of a younger audience, created additional awareness and provide more details about the Hawke show. We were nimble in real time: When art imitated life and the existing PM Kevin Rudd was overthrown by one of his own party members, Julia Gillard, we integrated into mass publicity of the event with tactical press ads placed among the editorial commentary to play up the similarities. The campaign tied topical political element to the past to maximize audience receptivity and engagement.
How this Campaign may be a Template for World Class Standards
Four key principles of the Hawke campaign were pivotal in moving from mere awareness generation to creating the meaningful brand experience that ensured success. In an increasingly fragmented world, these principles embody the key ingredients required to create a genuine bond with our consumers and audiences.
1. We generated content not just ads: The campaign was powered by the multitude of stories that already existed around Bob Hawke. Our earned media was a critical element of the campaign (news stories, editorial) fostered by paid media interactions.
2. We created social currency: Our mock election created of currency of information that also build intrigue and interest.
3. We built and fostered a community: The social media landscape underpinned the campaign and provided an opportunity for dialogue to ensure that the audience felt a part of the Hawke era in their own way.
4. We sparked and nurtured conversation: Our community spaces got people talking and provided a place for the engagement to take place.
Media: Hawke set out with ambitious objectives, and with the help of an engaging campaign approach, we managed to turn a serious political docu-drama into a must-watch event among a politically apathetic audience. The Hawke TV event achieved the number 1 position in its prime timeslot: giving Ten a majority 53% commercial share against its two main commercial rivals. Ten's commercial share of the core under 40s audience of People 16-39 was an impressive 59%, leading the night's viewing. Even with a miniscule budget, we have the power to shift people's perceptions and behavior via strong insights and impactful communications anchored in meaningful brand experiences.