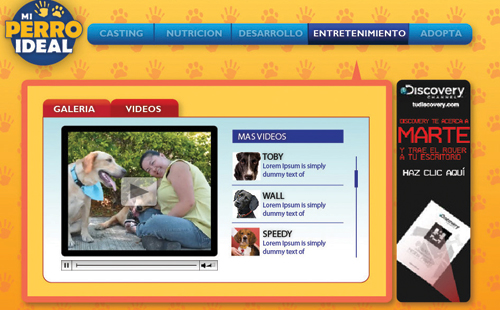 GOLD — Mars-Pedigree
"My Ideal Dog"
Entrant Company: MPG – Havas Sports & Entertainment

Category: A Multinational campaign in any one region of the world, such as Europe, Latin America, Middle East, Asia, etc.
Credits:
Liliana Caro, Havas Media International Miami SVP Catalyst Director
Manuel Reis, Havas Entertainment Managing Director
Natalia Vasco, Havas Media International Miami CEO
Rossana Corniel, MPG International Miami Client Services Director
Jesse Leon, Sales Executive, Discovery Communications
Bruno Martinez, Creative Director, Discovery Communications
Viviana Gutierrez, PET Marketing Director, MARS
Adriana Montano, PET Marketing Director, MARS
The Situation: In Latin America, Pedigree is pet food category leader. Pedigree's brand goal was to increase sales by 7.5% and Regional SOM by 1% H1 2010 vs. H1 2009. The brand was facing two main challenges:
There's an increasing practice of owners feeding their pets table scraps. In fact, pet consumption of home - or "people" - food remained very high across the region reaching 60-70% in markets such as Chile. This served to highlight the lack of education about pet care, providing a great growth opportunity for Pedigree who, besides leading the category, has a strong loyal base of 57% of pet food consumers. Pedigree's role as leader was to expand the category, increasing their 28% household penetration by 3% across LatAm.
Throughout Latin America millions of dogs are abandoned each day, millions more suffer from malnutrition and live desperately on the streets. Pedigree knew that a love for dogs existed and that this situation was the result of a lack of education, which ultimately resulted in low adoption rates throughout the region. Pedigree needed to 'walk the talk' and increase awareness of Pedigree Adoption Drive through education and promotion of dog adoption among Latin American consumers. Dog adoption rates across the region should increase at least in 5%, growing the market for dog food organically.

The education and promotion of dog adoption became the two main communication objectives in order to face the brand and marketing challenges. As Mars, the maker of Pedigree, began to roll out the Pedigree Adoption Drive, in parallel with Responsible Pet Ownership messages, an opportunity was identified: unify Latin America under this aligned strategic platform. It was established that a 63% pan-regional reach was needed to achieve these goals.

Insight and Strategic Approach: Latin Americans love dogs (35% LTA own dogs). Pedigree research shows that the brand people feed their baby pets becomes the brand they will use throughout their pet's life.
The concept of 'Pet Parents' and the 'humanization' of dogs is a novelty in Latin America and this will imply many new needs and more consumption of pet products. Pet parents are obsessed about being good parents, and they trust the brand who teaches them how to do it better.
27% of Latin Americans rely on television to keep them informed. Cable TV & Internet have the perfect combination between penetration and affinity, and can be exploited as regional media. Pet lovers WOM is going to push awareness: 95% of pet owners had talked about brands and are 11% more likely than the average Latin American to post comments about brands online.
The regional strategy was developed through an entirely customized and unique 360° communications platform with a wide portfolio of channels and digital solutions, plus consumer interaction and participation.
The central element was an original 30 minute reality TV Show called "My Ideal Dog" with unique content that leveraged the brand's values and initiatives. Developed with Animal Planet, it leveraged the message and delivered it to the right audience. We filmed five episodes, three in Colombia and two in Mexico, assuring relevance and engagement with the Latin American audience to air in a primetime slot. A total of five family stories were developed as they brought a new dog home from a certified Pedigree Dog Shelter. There was a casting call to choose the families who participated, and a digital platform was activated in social media to open and establish fluid dialogue with dog lovers, continue education and positioning Pedigree as part of all this dog love movement.
Media Tactics: The main delivery was the amplification of Pedigree messages in Latin America through the innovative content of "My Ideal Dog." It was hosted by a dog expert and a psychologist, who built credibility and generated consciousness about the millions of stray dogs available for adoption in Latin America's Pedigree sponsored shelters.
The show, evolved around the process of adoption with the expert recommendations on the ideal dog for each family's individual lifestyle, reinforced the core brand message of educating pet owners on the responsibility of adopting a dog, as well as providing families with the right tools to incorporate the new family member. During the show, tips were given to families about the right ways to treat a new dog and viewers were entertained by exchanges, conversations and funny moments.
Families were involved since the beginning of the campaign and the interaction continued throughout the show. When the show was aired, a dedicated social media platform was created to connect, interact and facilitate dialogue with pet lovers across the region. Adoption information for each country, expert tips on nutrition, training and development, dog expert live conversations and message boards were available. The show has also seen an extended bespoke communication in point of sale and PR, both pan-regionally and locally.
Additionally, messages were customized for each media vehicle, including the entire portfolio of Discovery channels (Discovery Kids, Discovery, Liv, Animal Planet, Discovery Home & Health).
How this Campaign may be a Template for World Class Standards
By digging deeper into consumer insights, we found an opportunity to educate pet owners about the proper ways to raise a dog while at the same time enhancing the lives of dogs throughout Latin America.
We know that close to 30% of Latin Americans use TV as their main source of information while another 95% of pet owners are likely to talk about pet products. With this in mind, we developed a regional 360° communications platform throughout all of Latin America with a strong focus on a media-first reality television show that brought owners together with their ideal pets. Included in the show were tips on nutrition and information on all stages of a pet's life so that both the owner and the dog can prosper together.
A huge hit, sales increased over 8%, brand loyalty rose and the Latin American community is now 15% more likely to adopt a dog after having seen the program.
Results:
Sales: +8% (vs. 7.5%)
Pedigree Penetration: +4.4% (vs. 3%)
+9.8% Brand Loyalty
+3%points Brand Awareness in key markets
Dog Adoption:
Latin-Americans are 15% more likely to adopt than before the show!
77% of those who watched the show are likely to adopt; 92% would recommend adopting
+38% in Brazil
+114% in Mexico (applications +163%)
+60% in Puerto Rico
+55% in Colombia
Media/Content performance:
73% Pan-Regional Reach (objective: 63%)
+25% savings over regular campaign
+32% Animal Planet's average daily rating
7 million impressions in www.miperroideal.com
+85 free articles reaching 9 million consumers
Search: +29% Pedigree / +51% dog adoption
A Great Fit:
79% believe "My Ideal Dog" raised awareness on how to best care for dogs and encouraged adoption
88% believe Pedigree & "My Ideal Dog" fit well together