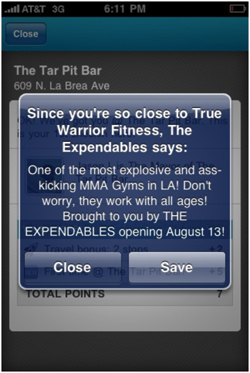 GOLD — Lionsgate - Expendables
"Engaging Mobile Users with Foursquare"
Entrant Company: Initiative

Category: A Local Brand or Service in a Local Market with innovative media solutions worthy of international adaptation or of world class standards.
Credits:
Initiative: Caroline Giegerich, Dave Rosner, Barbara Jeffrey Lionsgate: Banielle Depalma
The Situation: Lionsgate premiered The Expendables, a powerhouse film packed with action stars including Sylvester Stallone, Dolph Lundgren, Mickey Rourke, Jet Li, Bruce Willis and Arnold Schwarzenegger on August 13th throughout the US. The challenge was to connect with 1980s action nostalgia while promoting the film in a new and innovative way.

Insight and Strategic Approach: A film that packs 80's action stars into the ultimate ensemble cast emotionally connects its audience with the spirit of the era. If there's one term that best describes these tough guys-- the likes of Sylvester Stallone and Bruce Willis—it's "bad ass." A mobile campaign for the film needed to resurrect that "bad ass" attitude in an organic way.
Media Tactics: Utilizing the popular geo-location platform Foursquare, a mobile campaign was created to engage Expendables fans on a local platform around "bad ass" places to go in various US cities. The demographics of the Foursquare user base are young social urbanities that trend toward technology usage. Although Foursquare does not track gender, a survey executed after a Foursquare campaign with San Francisco's BART transit system showed it appealed to a male audience. This aligned with the targeted demo of the film: men 18-34.
Rather than simply adding impressions around the theatrical release of the film, the objective of the mobile campaign was to engage Foursquare users around their favorite local hot spots in the spirit of the film. The messaging theme was: "Unlock bad ass tips in your city from The Expendables."
Eleven cities were selected based on Foursquare usage and box office potential. In each city, "bad ass" locations were identified under the categories of bars, restaurants, clubs, concert locations, tattoo shops, strip clubs, boxing gyms, paintball locations, graveyards, gun shops, music shops, pool halls, army stores, martial arts location, erotic retail, motorcycle dealers, sporting good shops and specialty locations like the Crime & Punishment Museum in Washington, DC.
In Foursquare, "tips" are provided when a user checks into a specific location. These tips were at the heart of the film's message. For example, a New York bar tip (with some "bad ass" attitude: "Don't bother taking her to the bar down the street. This bar is only a few steps form your room. In the morning, grab some coffee from Stumptown to start your day. Brought to you by THE EXPENDABLES opening August 13.
Results:
The limitation of pushing into emerging platforms is that they do not typically have stand ad solutions in place and do not offer proper analysis. However, innovation in marketing is about addressing new platforms as soon as users flock to them. We brought a campaign to market which engaged users around a film in a more intense manner, particularly when combined with other media platforms like TV, Radio, Outdoor and others.
And the important opening weekend box office numbers not only outpaced expectations, but significantly beat out other projected summer blockbusters.