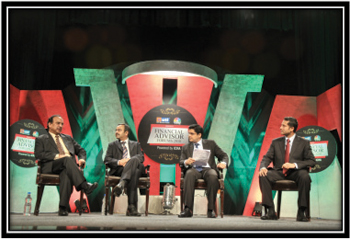 Bronze —
UTI Mutual Fund
"Unit Trust of India (UTI) presents Financial Advisor Awards 2010"
Entrant Company: Lintas Media Group

Category: A Local Brand or Service in a Local Market with innovative media solutions worthy of international adaptation or world class standards
Credits: Lintas Media Group: Priya Deshpande, Mahesh Bhojne

The Situation: The Mutual Fund industry in India is about US$ 140 Billion; however, in the wake of the financial recession, regulatory change had affected Financial Advisors who were central to the industry's distributor dependent model. In June 2009, the government decided to abolish the 2.25% entry load fee, which translated into 'Zero' remuneration to Financial Advisors for their service to the Investors. As a result, there was little incentive to recommending Mutual Funds.

UTI, as a leader in Mutual Funds sector, wanted to do something positive for Financial Advisors to demonstrate their value and service to investors, while also insuring that their financial products continued to be recommended. Though collaboration with two highly respected financial partners-- CNBC India (#1 Business News Channel) and ICRA (India's leading rating house)—UTI introduced the Financial Advisor Awards.

As a lead-up to the December Awards, CNBC hosted a series of Financial Advisor Forums in 4 major cities in India (Sep-Nov 10) which highlighted thought-leader interaction between Financial Advisors and other leaders in the finance industry. ICRA designed the entire methodology and evaluation process for the Awards. More than 17,000 certified financial advisors entered to compete for 22 awards given to recognize their efforts at National, Regional, Tier 2 Cities and District levels.

Despite the regulatory changes in June 2009, the Mutual Fund industry has bounced back and continues to grow in terms of AUM (Assets under Management).