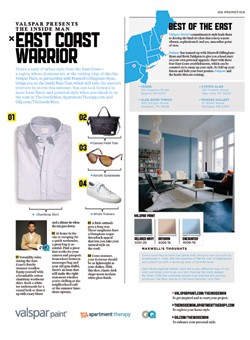 SILVER — Valspar
"Go big, go bold and go do"
Entrant Company: MPG

Category:
A Local Brand or Service in a Local Market with innovative media solutions worthy of international adaptation or of world class standards.
Credits:
MPG:
Tim Zayed, VP Group Account Director
Janelle Healy, Media Supervisor
Nicole Bahls, Media Planner
Media Contacts:
Karin Kaulig, VP Group Account Director
Christine Sadalski, Media Planner/Buyer
Abby Smidt, Media Planner/Buyer
The Situation: In 2010, the US was coming out the worst housing market and recession since WWII. Increasing paint sales would be a challenge. When Valspar launched commercially in 2007, all paint brands focused their marketing on rational attributes such as brand heritage, paint coverage, etc. All creative and media plans were interchangeable, utilizing :30 spots and page 4 color ads. To achieve disproportionate growth, Valspar had to change the rules, so we focused on the highly emotional message of color – a first for the category. Valspar was also the first paint brand to truly embrace digital (display and search) as well as innovative TV and print placements. Seeing the success that Valspar was having, many competitors entered into digital and abandoned rational messaging in favor of more emotional messaging.
As more brands became emotive, consumers viewed them all as the same, a similar situation to when Valspar debuted in 2007. Valspar had broken the mold once, but now the category was relapsing into the "all paints are the same" mindset.
Our challenge was to drive sales by once again positioning the brand as "unique" in the eyes of consumers.
Specifically, our goals were to:
Increase sales 5%
Increase unaided awareness 5 points
Increase consideration by 5.8 points
Insight and Strategic Approach: Valspar's target audience is what we've classified as Makeover Mavens, which are made up of roughly 65% women, 35% men. Open-minded, they are always looking for inspiration from the world around them and collecting ideas to bring into their homes. They have an eye for the latest trends and use home decoration as a form of self-expression. They like to shop and are willing – even eager – to spend money in order to support their passion, because they feel that their home should make a statement about their individuality. Once they've created the home and/or room that truly reflects this, they are enthusiastic about sharing their discoveries with their circle of friends. Our strategy was driven by consumer insight: confidence is a façade. Although our Makeover Mavens are serial decorators, open minded and profess to be confident in home décor, we know that there is a significant minority that is just too proud to ask for help - 25% of Makeover Mavens said that when they shop for paint, they need help or guidance in choosing colors (Source: Valspar's proprietary consumer segmentation study).
We set out to provide guidance/advice to the minority while inspiring confidence in the majority without ever appearing to talk down to them.

Media Tactics: We built consumer confidence through multiple touchpoints.
Confidence through experience:
The History Channel's premiere original mini-series America – the Story of Us was the first effort in decades attempting to summarize the entirety of American history on television.
This high-profile event debuted at the beginning of "paint season" and ran for six weeks. As an exclusive sponsor, we showcase Valspar's colorful 200+year expertise in paint and coatings.
In one integration, we showed how Valspar was used on the wings of Charles Lindberg's first transcontinental flight to prevent moisture corrosion. The association between Valspar's history and historic American achievements instilled consumers with confidence in the brand, established credibility and insured that consumers would be more engaged next time they encountered Valspar.
Confidence through fashion:
Male Makeover Mavens are strongly confident in their fashion choices but less so with their homes. We combined GQ magazine's authority on fashion with the independent blog Apartment Therapy's (AT) expertise on home design, creating a multi-touchpoint program that marked the first time two unrelated entities were brought together in such a way. An eight-page booklet in GQ's June issue featured six quintessential men's style for the upcoming summer months. GQ's fashion expert provided men's clothing advice while AT's founder gave home styling advice. Four additional regional (Midwest, East, Southwest, West) style inserts in GQ highlighted a road tour of selected men's homes and subsequent makeovers by AT as well as blogs on a custom Valspar hub housed on apartmenttherapy.com.
Confidence through doing:
Dwell Color Bars We leveraged Dwell's credibility as THE interior design magazine to position Valspar as the leader in color with a never-been-done-before ad unit: "Color Bars" ran throughout the 12-page editorial well of the magazine.
Valspar colors coordinated with editorial photos of homes from around the world and were identified in a non-intrusive way (the magazine well), showcasing Valspar's breadth of color offerings and the dramatic impact colors can have on design while Mavens "self-discover" new ideas.
Each strip included the color name and number, with no other advertorial call-out. On the final page, the colors culminated into a rainbow of Valspar products.
Blogher Network Mavens gain confidence from peers, so we worked with three high-profile bloggers to conduct dramatic makeovers of their homes, seeking viewer suggestions for a chance to win Valspar gift cards.
Endemic Do-It-Yourself (DIY) Environments Valspar messaging with several DIY on-air/online properties delivered step-by-step instructions on various and unexpected projects.
How this Campaign may be a Template for World Class Standards
We put the fun back into the paint category by focusing on the highly emotional (yet simple) concept of color to break through the competition and position Valspar as the authority on home decorating. With unique integrations on TV and a category-first crossover of print and online, we empowered Makeover Mavens to go big, go bold and go do while increasing sales 8% and consideration 10 points!

Results:
By empowering our Mavens with the confidence to get their own creative juices flowing, our sales increased 8%, unaided awareness jumped by 8 points and consideration rose 10 points!