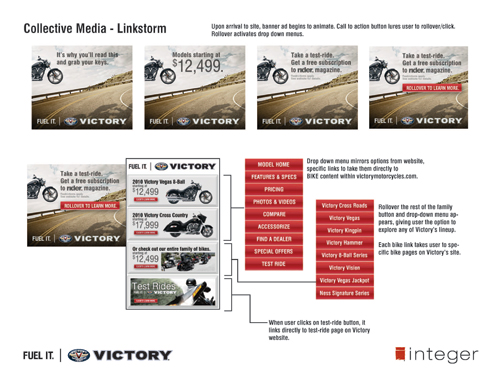 SILVER —Victory Motorcycles
"Fuel It"
Entrant Company: The Integer Group
Category:
A Local Brand or Service in a Local Market with innovative media solutions worthy of international adaptation or world class standards
Credits:
The Integer Group: Sharon Boddie, MK Woltz, Carcy Barnes, Joel Grabois, Kelly Moriarty, Sarah Cieto, Alison Rehnberg, Alex Rawal, Julie Hemze, Mike Manion, Keith Shifrin, Mary Winter, John Marquis, Scott Johnson, Austin Lane
Victory Motorcyles (Polaris Industries): Rod Krois, Janel Hinde
The Situation: When Victory Motorcycles turned to The Integer Group for help, the challenge facing the Victory brand wasn't just coming from its board of directors…
It was coming from an economy that was TANKING across the board. Big brands were not only taking huge hits, they were dying altogether.
Circuit City? Gone. Hummer? Done.
In the motorcycle industry, Buell closed its doors after being around for 25 years.
Even the brand that created the industry, Harley-Davidson, was down 14%.
Victory knew it didn't have the luxury of riding the economy out. The brand would be dead and gone without an unprecedented turnaround.
How do we turn a brand around that is barely surviving?
How do we fire up sales when the ENTIRE industry is at a record low?
And how do we achieve all this in a matter of months?
Insight and Strategic Approach: Diving into the brand, one thing was clear: Victory stood for nothing. It was just trying to imitate Harley-Davidson.
We invited Victory executives in to work as partners for the monumental task ahead.
In a full disruption workshop, we built entire rooms dedicated to bringing concepts to life - so team members could truly feel the connection the brand would have with the consumer.
Through the process, marketers became consumers. Employees became riders.
The turning point was understanding that true riders don't give a damn about leather jackets, biker bars, and some preconceived lifestyle.
This brand was more than that.
We uncovered the essence of the Victory brand - a relentless focus and passion for building bikes that enhance the riding experience.
We took this SHARED OBSESSION between Victory and the true riders…and created a new positioning:
Victory not only shares your passion, but it's the one brand that never stops fueling it.

Media Tactics: "Fuel it" became the brand's mantra. But Victory couldn't just say it, they had to LIVE IT. Traditional messaging and media would NOT be enough.
Instead of just listing features and showing mechanical details of a bike, we used insightful riding truths to connect emotionally with riders and reinforced them visually with point-of-view shots that put viewer on the product itself.
BLOWING PAST STALE, CONVENTIONAL THOUGHT, we were the FIRST IN THE INDUSTRY to leverage interactiveTV - allowing viewers to locate dealers, request brochures, chat with other riders, and get brand updates via Twitter and Facebook. All from their remote control.
We placed disruptive ads in the middle of motorcycle articles; speaking to riders AT THE VERY MOMENT they were fueling their obsession.
We turned traditional brochures and print ads into RICHER MULTIMEDIA EXPERIENCES – with snap tags that allowed riders to engage a motorcycle brand like NEVER before - with pictures, videos, and exclusive behind-the-scenes footage right from their phone.
In the retail environment, this created instant support for the sales staff – while also giving the shopper a deeper engagement with the brand than traditional POP.
Engaging consumers at every point along the purchase path, we created highly targeted online experiences that allowed motorcycle enthusiasts to instantly interact with each bike and schedule test rides.

How this Campaign may be a Template for World Class Standards
Using the TBWA philosophy of disruption we defied the category conventions where all other motorcycle manufacturers were imitating the 800-pound gorilla, Harley Davidson. By taking the clients along with us on a very scary journey we were able to sell in groundbreaking ideas and executions that took the brand in a very different direction not only from where they had been but also where the entire category still is. Our campaign allowed Victory Motorcycles to move towards an aspirational vision which overcame conventions in the shortest time possible, thus creating competitive advantage for the brand.
Understand that it's not just what a brand says, it's about how it behaves. Brand behavior speaks louder than words. It's not just about what you say (and when, where and to whom) but what you do. Everything a brand does is part of the brand story. The Integer Group and Victory worked together to make sure that everything from the bike, the dealerships, the media executions, the brochures and the brand communications were truly Fueling It.
Results: Our Fuel It campaign launched in February and by the end of March, the results were staggering.
Our consumers responded to our media campaign IN DROVES.
The interactive TV created an onslaught of brochure requests – surpassing projected goals by SIXTY PERCENT - with more than TWENTY-SEVEN THOUSAND brochure requests via the iTV platform.
The integrated media campaign led to more than NINE HUNDRED THOUSAND engagements in measurable media – while Dealer traffic for Victory bikes surpassed all other brands and test rides were up 193% - putting more prospective riders on bikes than ever before.
March sales set a company record - ACHIEVING the LARGEST RETAIL SALES NUMBER IN VICTORY'S HISTORY…
March 31st was the single best sales day EVER for the brand.
With the category down -20.5%, and Harley Davidson down -11%
VICTORY OUTPERFORMED THE ENTIRE MARKET up +13.1 % versus the previous year.
And while other manufacturers continue to struggle, Victory has experienced double digit sales increases every month since the "Fuel it" launch, posting a record 22% overall sales number as the industry stays DOWN -12%.
IN THE END, WE DIDN'T JUST IMPACT A BRAND…. WE SAVED AN ENTIRE COMPANY.