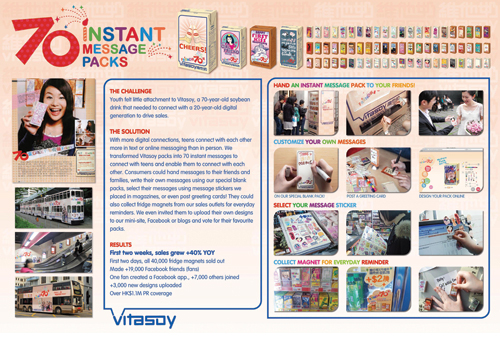 Bronze —
Vitasoy International Holdings Ltd
"70 Instant Message Packs"
Entrant Company: PHD Hong Kong

Category: A Local Brand or Service in a Local Market with innovative media solutions worthy of international adaptation or world class standards

The Situation: In Hong Kong, Vitasoy is a household soy drinks brand established since 1940. Vitasoy is like an old friend of HK, one that has stood by its people for 70 years - cheering them on, quenching their thirst and helping them bond.

However, the brand's core consumers are a new generation in their 20s who see Vitasoy more like a distant uncle. Our challenge was to help a 70-year-old Vitasoy brand engage a 20-year-old target and nurture lifelong relationships with them.

Communicating to youths is notoriously tricky. This media savvy audience will notably reject any message bombardment so Vitasoy needed to position itself in such a way that it is invited into their world. It was vital to get youths immersed in, inspired by, and talk about Vitasoy.

Insight and Strategic Approach:Consumer insight revealed that technology has connected youths to more people than ever before. Yet, with more digital connections, they have fewer human connections. There's more screen time than face time; more online messaging than moments together.

On Vitasoy's 70th Anniversary, we transformed Vitasoy packs into a world first "70 Instant Message Packs," a 70 limited-edition packs that carried messages of 70 different moments to connect with youths and gave our messaging-obsessed consumers a new way to express themselves, live and in-person.
Media Tactics: Vitasoy's "70 Instant Message Packs" were introduced in print, outdoor, online, vending machines and on its delivery trucks activated consumers' interests and provided inspiration for youths to express their caring messages using Vitasoy packs.

The packs were conveniently made available in all sales outlets for our targets to give out messages to those they cared about. When they made the effort to send their friends messages using our packs, we connected them with Vitasoy in a way that celebrated 70 years of friendship.

Besides the 70 greeting messages, we let consumers get personal and gave them special blank packs to write their own messages.

They could also select their messages using message stickers we placed in the magazines they love, collect fridge magnets for everyday reminders from convenient stores where they mostly purchase convenient drinks, or even post greeting cards to those they cared about.

Through Vitasoy's website, we encouraged them to create customized messages and pack designs,
upload them to blogs and Facebook to vote for their favorites. These not only aided consumers in building real human connections, but also drove purchases of Vitasoy drinks.

How this Campaign may be a Template for World Class Standards

The Vitasoy's "70 Instant Message Packs" campaign featured the very best in creative thinking, and it can easily serve as a global example of how to effectively utilize a brand's own product packaging (owned medium) to convey brand's messages and bond with consumers innovatively in many ways beyond our core target youths. The limited 70 packaging designs in retails and exclusive fridge magnets redemption in convenient stores effectively created immense shelving impact and generated excitement in the retail environments where competition is most intense.

By tapping into the very essence of "face time", the integrated media worked together to inspire messaging-obsessed consumers with a "new way" to express themselves, live and in-person using Vitasoy packs. Conversations and sharing stormed through the HK society, putting Vitasoy into the heart of consumers with whom we have once again re-established a strong emotional connection.

The campaign was widely regarded for its clever use of creative and media, garnering significant press coverage which caught the attention of people of HK and captured their hearts as one of the most trusted beverage brands that had literally stood by them over the past seven decades.

Results: Sales increased 40% YOY in value and volume in fewer than two weeks. All 40,000 collectibles fridge magnets (at HK$2 each with purchase of every two Vitasoy packs) were sold out in two days.

The engagement level went far beyond expectations. We made over 19,000 friends (fans) on Facebook in less than two weeks. One fan even developed a Facebook application that +7,000 people signed on to use. Over 2,500 pack designs were uploaded on Vitasoy's campaign site, which was 36 times more than the 70 pack designs we originally created!

Major print titles picked up the story of Vitasoy's 70 limited packaging designs, over HK$1.1 million (USD150K) free editorial coverage achieved.