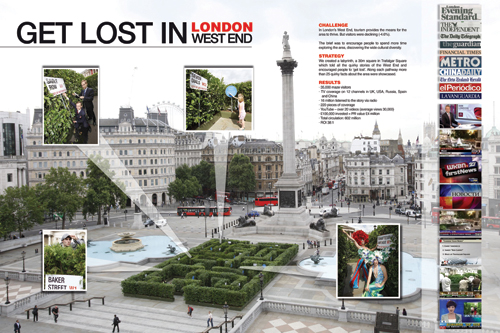 GOLD — West End Partnership
"Get Lost in the West End"
Entrant Company: Cake (Havas Sports & Entertainment)

Category: A Local Brand or Service in a Local Market with innovative media solutions worthy of international adaptation or of world class standards.
Credits:
Jace Tyrrell - West End Partnership Director
Brian Connell - West End Partnership Director
Mike Mathieson - Cake (Havas Sports & Entertainment) CEO
Simon Moore - Cake (Havas Sports & Entertainment) UK Creative Director
Will Parkinson - Cake (Havas Sports & Entertainment) Director of Live Events
Jodie Butt - Cake (Havas Sports & Entertainment) UK Media Strategist
Sarah Hunt - Cake (Havas Sports & Entertainment) Senior Account Manager
Sarah Manktelow - Cake (Havas Sports & Entertainment) Senior Account Executive
Yazmin Malcolm - Cake (Havas Sports & Entertainment) Account Assistant
The Situation: London's famed West End is busy in its preparations for the 2012 Olympics, when all eyes will be on the other end of the city. With 200 million annual visitors, tourism provides the means for the area to thrive, but numbers were declining by 4.6%.
Research showed that while nine out of ten visitors to London made their way to the West End, they didn't spend very much actual time in the area. The brief was to encourage people to spend more time exploring the area, discovering the wide diversity of culture, food, entertainment, shopping, etc. that it offers and to achieve national and international coverage for the activity.

Insight and Strategic Approach: Drawing worldwide media's attention to such qualities requires different assets for different regions: our media audit found that US audiences thrive on stories around heritage and history, Europeans like the sense of 'something happening' in a tourist destination, the UK likes to see London as 'groundbreaking' while Londoners themselves take great pride in their own city.
We therefore created a 30m square maze in the heart of the area - Trafalgar Square - inviting people to "get lost in the West End," encouraging them to spend more time in the area.
Each pathway corresponded to a different street of the West End, and visitors were given quirky facts about that area as they passed through.
The maze was in place for a week, and a performance space in its centre welcomed a different West End attraction each day - from the Tailors of Savile Row to stars of West End shows.
Media Tactics: Those seeking heritage were not disappointed. Those seeking that sense of 'something happening' were also rewarded with the following five-day spectacle:
- Monday: Drag Queens from top show Priscilla Queen of the Desert performed in the maze
- Tuesday: China Town arrived with a giant paper dragon weaving through
- Wednesday: London's finest Savile Row tailors trimmed the maze
- Thursday: The renowned ensemble The Piatti String Quartet performed
- Friday: The Swinging 60s of Carnaby Street arrived, with 60s tribute bands, Vespas, and an exhibition of iconic photographs of the likes of Twiggy and the Rolling Stones
The communication strategy focused on capturing the story, performances and visitors' enjoyment and sharing it with on/offline media before, during and after the event. UK & international broadcast crews were invited down to film and a dedicated push to worldwide media and social media platforms - Twitter, Facebook, YouTube, and Flickr - helped spread the story.
How this Campaign may be a Template for World Class Standards
We attracted attention to a part of London's tourist area that was experiencing a decrease in consumer activity and footfall by giving the people what they wanted – something to talk about! By turning the center into a literal maze, we dramatically fuelled word of mouth while highlighting the historic events of the area and providing hours of entertainment for passerbyers. We used media from inception to completion to attract locals, tourists, visitors and news coverage, and as a result, saw an increase of 35,000 people pass through the maze in just 5 days!
Results:
We got people's attention in London and the media talking about it
Over 35,000 people passed through the maze in five days

National and international TV coverage on 12 channels across the UK, USA, Russia, Spain and China

16 million listened to the story via radio

Over 220 pieces of coverage across the communications channels in five days

Numerous consumer videos appeared on YouTube – over 20 videos of consumers enjoying the maze (some with views of over 30,000)

For less than £100,000 invested, the event secured a PR value over £4 million

Total circulation of 602 million

A campaign media ROI of 38:1


By the end of November 2010, footfall in the area year to date had increased by 3.1%, with sales in the area up by 7.5%