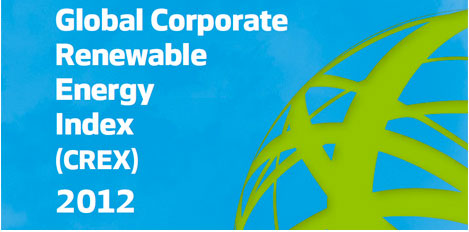 BEST B2B-
Vestas Wind
Systems, Denmark
CREX-Corporate Renewable
Energy Index

Much of the demand for renewable technologies has been driven by specific energy policies. But there is also a growing awareness of the benefits of generating and using clean energy over and above the incentives provided by governments, especially among corporate energy users.

CREX program or Corporate Renewable Energy Index is the largest mapping to date of global corporations' renewable energy procurement in collaboration with Bloomberg. The aim of the CREX is to identify the quantity and the sources of renewable energy used by companies around the world, based on a detailed survey. This provides much-needed transparency for a range of stakeholders, including:
Corporations need to know the renewable energy options available to them and to compare their performance to that of their peers and the industry leaders.
Utilities and renewable energy developers seek to understand the priorities and decision-making processes of companies when buying renewable energy.
Consumers want simple information to make decisions about the energy content of products and services they buy.
Investors require improved information on corpo­rate energy consumption patterns so they can better judge risk in companies' energy supplies and relative resource efficiency.
NGOs are keen to assess the energy and environmental performance of companies in order successfully to effect change and influence public policy.
Policy-makers and need better information on corporate energy use to better understand how their decisions impact corporate energy procurement decisions.
The CREX report is one initiative to create this transparency to the benefit of companies and consumers alike. Vestas and Bloomberg believe that transparency is a prerequisite for better decision-making by consumers, companies and policy-makers. CREX is one of the most incredible, powerful marketing and branding concepts developed in the energy business for many years and it has already received support from close to 400 top brands in the world.