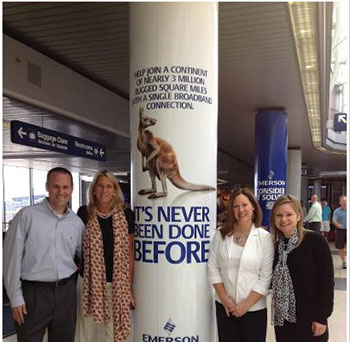 Emerson, It's Never Been Done Before, Fleishman-Hillard, OMD, DDB US
Having rolled out new ads showcasing high-stakes customer solutions the year before, global industrial technology and engineering leader Emerson was extending its popular and successful "Never Been Done Before" marketing campaign into 2012. After leveraging other media buys and tackling a range of airport marketing opportunities, Emerson wanted to increase the impact of the campaign with its audience of the top 200 decision-makers at the global Fortune 1000 companies.

To grab the attention of distracted business travelers, Emerson set up shop at the confluence of H and K concourses at O'Hare International Airport in Chicago. It's the one and only thoroughfare in and out of the area and it's traveled by 21 million people a year. It's also one of the few areas where people walk through without their noses buried in their smartphones. Emerson turned the huge floor-to-ceiling guardrails into colorful and repetitive billboards with large, colorfully striking graphic images (wolves, kangaroos, orange peels, etc.) to create a unique industrial B2B experience for travelers in general and its customers specifically. QR codes allowed the audience to easily find out the full story and share. The Emerson website received nearly 264,000 visits over the year as a result of the execution with 73,000 attributed to mobile devices.