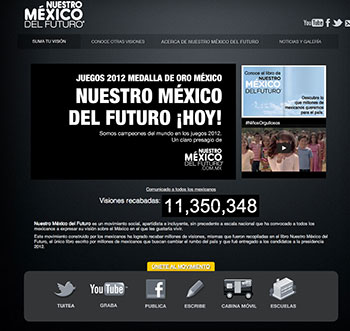 GNP (Grupo Nacional Provincial), Nuestro Mexico del Futuro, (Our Mexico of the Future), Havas Media, Havas Sports, TeranTBWA Mexico
The current landscape of Mexico is often defined by challenges, such as the changing political landscape and the growing wave of corruption. These factors have caused the Mexican people to live in a society of risk, but GNP, the leading nationwide insurance company, believes a risk-free society is a better society, and that the dreams of every citizen are important to the welfare of the community.

GNP created a new movement – Our Mexico of the Future – based on inspiring people to provoke a positive reaction. One hundred spots aired nationwide featuring influential personalities giving their visions of the future. The movement's website and social networks collected recorded visions from citizens, using the hashtag #mexicodelfuturo. Traveling truck activations collected visions from citizens across the country and new content was continuously generated using the voices from these people.

Hearing that children often mentioned mature themes (corruption, insecurity), GNP created the spot "Uncomfortable Children" to shake up the country. The video included a call-to-action for presidential candidates, urging them to change this scenario and each candidate received a selection of visions and a book detailing six goal agendas, one for each year of the presidential term. In total, 11,102,906 visions were recollected and four million YouTube views were seen in just three days. With "Uncomfortable Children," Facebook likes rose by 163% and Twitter "followers" rose by 70%.