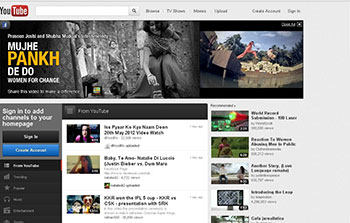 Johnson & Johnson's Stayfree, Women for Change, OMD India
Stayfree with UNICEF encouraged privileged women across India to improve the health and hygiene of underprivileged adolescent girls through a "support a woman" initiative. Aired exclusively on YouTube, Stayfree created a 3-minute anthem to evoke strong reactions about the plight of a girl's journey from childhood to adolescence, which resulted in nearly 1 million girls receiving aid from their more fortunate sisters.

Only 12% pf menstruating women in India use sanitary napkins.
1 in 3 girls in India drop out of school due to lack of hygienic amenities.
1 in 2 girls in India are anaemic due to lack of nutrition.
Sadly, there is both a lack of education and hygienic amenities available to India's under privileged. More than 300 million women and girls in India use unsanitary material such as old cloth, husks, and dried leaves, which makes them susceptible to infections and diseases. They also have to deal with societal discrimination for 5 days where they lead a secluded life and are not even served proper food. Thus the onset of menstruation signals the beginning of a restricted, unhealthy life for many women in India.

Stayfree envisaged a way to help the underprivileged rise above these social and physical restrictions through "It's time to change" brand proposition. They enabled privileged women to "Support a woman" with a donation of INR 575 (approx. 10 USD) to provide the following to a beneficiary girl or woman:
Two Medical check-ups as well as counselling by a registered health care professional, in a span of six months
Two haemoglobin estimation tests
A 3 month course of iron–folic acid and calcium tablets
For every woman supported, Stayfree will provide 6 months' free supply of sanitary napkins to the beneficiary.