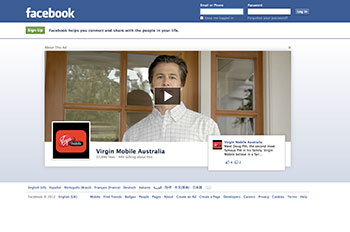 Virgin Mobile, Fair Go Bro
Starcom MediaVest Australia
Telco dissatisfaction is as prevalent as ever. Virgin Mobile scores the highest in customer satisfaction but is outspent 4:1. With the rise of social media, people have less privacy than ever, including celebrities– and their families. Virgin thought it'd be cool to provide customers with a FAIR GO versus their famous sibling who gets everything for nothing. With that, Virgin recruited Doug Pitt, the unknown brother of Brad, to create talkability. Doug was first introduced as the new spokesperson through social media. Trying to get his 15 minutes of fame, online communities rallied around him for a chance to be in his entourage. In Australia, Doug went into overdrive, taking part in 28 interviews, attending media parties and even lobbying to have Pitt Street renamed Doug Pitt Street. Virgin Mobile customers were rewarded with the chance to get their own taste of fame. People took Doug to their hearts and within two weeks the campaign generated 1.2 million viewers. Awareness and consideration both increased 20% with a 7:1 ROI.