SILVER — Pfizer Nutrition/Wyeth Gold Infant Formula—"Truth or Dare,"—OMD Hong Kong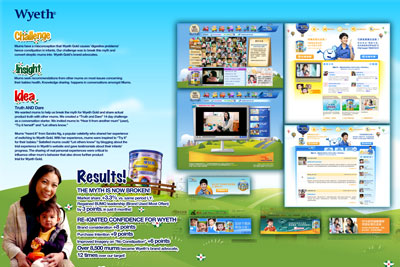 Despite 99% brand awareness, Wyeth Gold was stuck in second place in Hong Kong's cluttered Infant Milk Formula (IMF) market due to a misconception held by Mums that Wyeth Gold causes "digestives problems" hence constipation for infants. It is a myth that has never been proven.

The "Truth & Dare" Challenge was initiated to instigate non-user Mums to "dare" try Wyeth Fold product and share the actual product "truth: with other mums. To start the conversation, the brand employed a popular Hong Kong celebrity mother, Sandra Mg, to share her switching experience to Wyeth Gold. Her main message was direct – "trust a true case, not the rumors>"

The campaign was directed towards creating strong brand advocates by driving mums online to share experiences and start conversations with other mums in a systematic and meaningful manner. The personal sharing was critical to influencing behavior, while driving product trials.

The myth now broken, Wyeth Gold experienced some of its strongest levels of sales growth immediately following the campaign.