GOLD WINNER: Accenture,
Breaking Through in the Businesss-to-Business Category

Client: Accenture

Entrant Company: Mediaedge:cia New York

Entry Category: A Local Brand or Service in a Local Market with innovative media solutions worthy of international adaptation or of world class standards

Names to be credited with submission:
Phyllis Carluzzo- Senior Partner, Account Director, Mediaedge:cia
Mike Haberman, Communications Strategy Director, Mediaedge:cia
Belinda Moon, Communications Planner
Jacquelyn Macko, Communications Manager
Cristi Ciolino, Assistant Planner


Time Period of Campaign: 2008

Case Study Summary: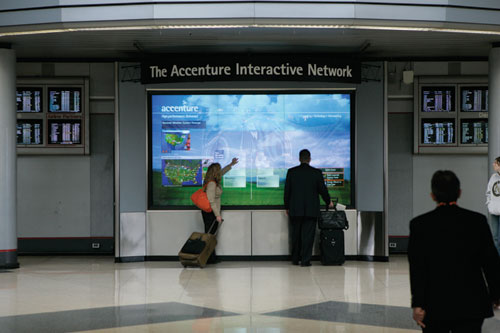 Marketing Situation: The field of Management Consulting, Technology Services and Outsourcing has become intensely competitive today. Traditional players remain strong, while off-shore companies, particularly from India, and specialty technology boutiques offer new consulting alternatives. In addition, the buying process for such services is lengthy, incredibly complex, and involves the most senior members of an organization.
Accenture's objective is always to be top-of-mind on everyone's consideration list when a company is hiring a consultant. Finding new and innovative ways of engaging a target of senior level executives in Fortune 1,000 companies is critical. Accenture realized it needed to be associated with an unexpected idea in order to keep their name front and center in a differentiated, clever way.

Key Insights: Accenture learned through its annual proprietary research among C-level and senior executives that these target individuals go online to gather specific information, rather than just browse the web. Plus, they spend up to 50% of their time traveling.
It became clear that Accenture needed to do something innovative in the online space to provide relevant information in a fast and effective way. And it needed to do so in airports while standing out from the clutter.

These two insights were the key media drivers in developing both the Accenture Interactive Network and the Online Expandable Unit campaign.

· The Accenture Interactive Network is a 7-feet high, 10-feet wide, high-definition, interactive screen that delivers topical news, weather, sports and entertainment information as well as Accenture advertising
· Online Expandable Units expand from online banner units and hold additional content such as white papers, case studies and pod-casts that can be downloaded and do not require the user to leave the web page

These two efforts allowed Accenture to deliver brand messaging to C-Level executives while providing useful information they will value through a simple and convenient manner without complicating their already busy schedules. Plus, the initiative brings to life the Accenture tagline of "High Performance Delivered," which underscores the unique type of success they provide to their clients.
Media Strategy: Accenture stood apart from its competition and positioned the brand as a marketing and advertising innovator through The Accenture Interactive Network and the Online Expandable Unit.

The Accenture Interactive Network is a new marketing phenomenon. The interactive display enables the latest generation of dynamic, highly interactive, multimedia-rich applications. It was developed to help Accenture effectively communicate with busy executives while they are at the airport. The Network was piloted in two of the busiest airports for executive travel, O'Hare in Chicago and John F. Kennedy in New York.

The Expandable Units were created to provide an opportunity for Accenture to showcase in-depth information about their capabilities without disrupting their target's web experience. The content of the expandable units consisted of white papers, case studies and pod-casts which do not require the user to leave the web page. These expandable units have helped take the Accenture online media strategy from the typical branded/drive-to-site strategy to a strategy that delivers information about how Accenture can help companies achieve high performance by creating a user experience within the banner, taking less time and fewer clicks for the pay-off.

How Could this be a Template for Other Campaigns or for World Class Standards? The success of the Accenture Interactive Network in the Unites States has been noticed in other international markets. Developing and installing the Interactive Networks in other geographies such as India and China will work to target senior executives traveling in those markets.

The online expandable unit campaign, which is currently live in the US, will also be rolled out internationally. Accenture is tapping into worldwide offices to determine the type of information of greatest interest to local targets so that the expandable units can be populated with case studies, white papers and pod-casts of most relevant.

Results: The Interactive Network and Online Expandable Banner showed proven success with the Accenture target and will continue to be part of the overall Accenture media strategy.

The Accenture Interactive Network is measured quantitatively by tracking interactions and also conducting surveys on-site to measure perceptions of Accenture after interacting with the medium. The Expandable Unit campaign was tracked at a very detailed level – providing several opportunities for success within each execution.

Over 90% of C-Level executives who interacted with the Accenture Interactive Network found it easy to use, while over 85% found it both useful and that it provided relevant information. Accenture's research showed positive perceptions of the Accenture brand with C-Level respondents who had engaged with the Interactive Network: more than 65% said they have a more positive opinion of Accenture after using the Network and more than 80% felt it demonstrated Accenture as an innovator.