GRAND PRIX WINNER: Johnnie Walker — Celebrating Chinese New Year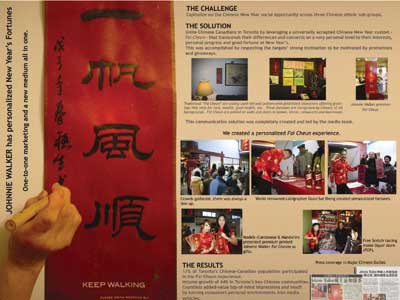 Client: Johnnie Walker, Diageo of Canada

Entrant Company: Starcom MediaVest Toronto

Entry Category: A Local Brand or Service in a Local Market with innovative media solutions worthy of international adaptation or of world class standards

Names to be credited with submission:
Brian, Chan- Strategy Supervisor, Starcom Worldwide
Joseph Doan- Media Sales, Duan Media
Al Morshedi- Media Sales, Duan Media
Time Period of Campaign: Mid-December 2007 through February 7, 2008 (Chinese New Year)

Case Study Summary:

Marketing Situation: The business goal was to determine the viability of increasing consumption of Johnnie Walker Scotch in the Chinese community, specifically at Chinese New Year. Chinese-Canadians are generally divided into three ethnic subgroups—(those from Hong Kong, Taiwan or Mainland China)-- with distinct cultural differences based on spoken and written language. Marketers traditionally had targeted to one of the three groups. This campaign authentically connected with all three groups— a key to building scale for the brand.

Key Insights: Johnnie Walker is the drink of choice when one attains certain personal milestones. This brand positioning aligns with the values of the Chinese-Canadian Scotch drinker—(ambitious, respectful of family values and driven to make the family proud through accomplishments). It also coincides with the New Year's customs of promoting good fortune. Despite a respect for the finer things in life, the Chinese community also appreciates giveaways and value-based promotions and add-ons.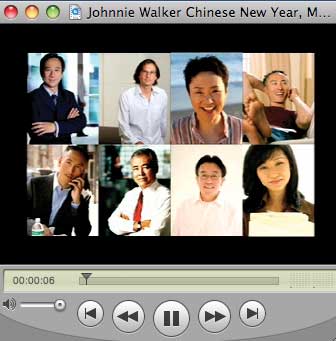 Media Strategy:
The campaign created new media and innovative one-to-one branding experiences by turning the Chinese tradition of Fai Cheun, or the use of red posters with special greetings of wealth, luck and success, into a valued advertising medium. Using natural links between the traditional attributes of Fai Cheun and the design of Johnnie Walker Red Label, a fortune of personal progress was created, which led to the Johnnie Walker logo—a striding man forging forward, along with the consumer in the New Year.
The strong visual iconography of the poster custom transcended the Chinese ethnic and language differences, and upscale Johnnie Walker-branded Fai Cheun appealed to the target. "Calligraphy Stations" were set up with gifts, promotions and tastings. Branded art was created with personalized Fai Cheun banners for New Year's use.


How Could this be a Template for Other Campaigns or for World Class Standards? Ethnic markets in any country represent untapped potential, particularly when advertising resonates with their culture. Considerable efforts must be make to immerse the research in the daily lives of the target to discover key human truths. Ethnic media in many countries is also underexploited. Costs versus traditional media fall below norm and vendors are open to experimenting with innovative ideas.
This campaign is also an example of the flexibility required for media agencies in today's quickly evolving media landscape. In order to do what's best for our clients, must sometimes wear different hats under different circumstances. In this case, Starcom was required to play the role of a creative agency and event planner, in addition to media agency.
Results: The Fai Cheun experience created a huge sensation in the Chinese community. Over 110,000 people visited the Calligraphy Stations, representing 17% of Toronto's Chinese-Canadian population. The event was featured in Toronto's two largest Chinese daily newspapers. Despite a very short window from the campaign's conception to launch, both volume and revenue results were dramatic as compared to the prior year's sales among the Chinese communities.