GRAND PRIX WINNER: Doritos Battle in a Bag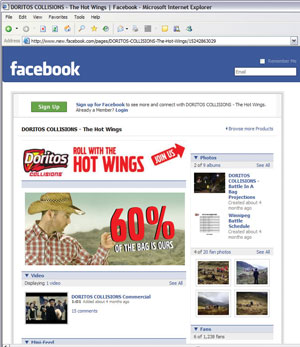 Client: Frito-Lay Canada

Entrant Company: OMD Canada

Entry Category: A Local Brand or Service in a Local Market with innovative media solutions worthy of international adaptation or of world class standards

Names to be credited with submission:
Gilad Coppersmith – OMD Canada
Tom Fotheringham – OMD Canada
Ari Elkouby – Proximity Canada
Paul Lin – Proximity Canada
Julian Joseph – Addictive Mobility
Michael Delios – Optiad Media
Time Period of Campaign: 2008

Case Study Summary: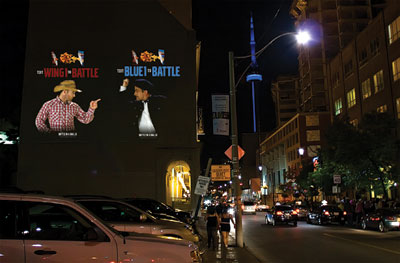 Marketing Situation: Doritos in Canada was losing relevance among the "Young Snackers" category—ages 15-24. Despite a number of launches, the brand was losing shelf space at key retailers. The challenge was to not only reverse the decline, but make Doritos cool again among its key consumer target. The goals included increasing brand awareness, market share and product trials.

Key Insights: "We needed to let 'Young Snackers' play a real part in this campaign otherwise they were going to reject us for something else more interesting when deciding which brands to engage with. We realized that our consumers need to be in control of their experience."

Media Strategy: The Battle of the Bag campaign drew consumers into a battle between two intense chip varieties (Hot Wings & Blue Cheese). The strategy involved creating a "happening" around the battle that would raise awareness of the launch and provide an opportunity to sample the product with "Young Snackers." The next step was to let them spread the word and influence their peers.
This involved a North American first: digital out-of-home projections that allowed interactive involvement through mobile phones. The projections featured two characters, personifying the two different flavors. After sending a mobile text message with the keyword "Blue" or "Wing" our two conflicting characters would battle it out in a series of random moves that entertained and engaged the audience. These were called SMS "throw downs!"
"Young Snackers" then received a text reply encouraging them to visit www.battleinabag.ca to choose sides and continue the battle. Social-Networking sites such as Facebook and MySpace kept the battle raging, as did an epic 60-second spot where the two characters met to settle the score. This also appeared in Cinemas—during one of the wettest summers on record.
By actively inviting "Young Snackers" to participate in the battle, an experience was created that also tapped into this group's desire to be in control. As a result, Doritos became a more relevant brand and retailers were interested in it again.

Why could this be a template for other campaigns? "Today it is possible to leverage the same piece of work in multiple media very easily – the movie epic was shown online, on TV and in Cinema. All of these touchpoints were highly relevant for our target audience. The key is to plan for flexibility right up front and especially to secure multi-media talent rights.
The campaign also demonstrates how by keeping look, feel & execution consistent across all touchpoints the sum can be greater than the parts. It seems obvious but is so rarely done

Results: Despite a very limited media budget, brand awareness goals were exceeded after 12 weeks. Market share also increased and the resulting product revenues were well ahead of goals.