GOLD WINNER: Dove Sleepover for Self-Esteem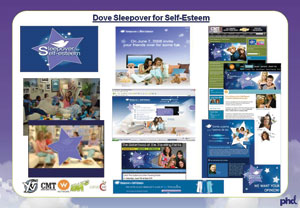 Client: Unilever — Dove

Entrant Company: PHD Canada

Entry Category: A Local Brand or Service in a Local Market with innovative media solutions worthy of international adaptation or of world class standards

Names to be credited with submission:
• Nadia Codispoti, PHD Canada
• Bettina Heimrath, PHD Canada
• Scott Henderson, PHD Canada
• Alison Leung, Unilever Canada

Time Period of Campaign: 2008

Case Study Summary:

Marketing Situation: Too many girls develop low self-esteem from hang-ups about their looks, and consequently fail to reach their full potential later in life. The Dove Self-Esteem Fund (DSEF) was created to educate and inspire girls on a wider definition of beauty in order to help build a strong sense of self-esteem.

As part of Dove's on-going battle against societal stereotypes, the goal of this campaign was to develop a breakthrough multi-platform media experience that de-bunks beauty myths, while connecting mothers and daughters and encourage women of all ages to feel beautiful.

Key Insights: The Dove woman has always enjoyed spending quality time with her daughter. However, as a child gets older, that time become more difficult to find.

A majority of Canadian mothers (86%) believe that sleepovers can impact their daughters' self esteem — positively or negatively. Sleepovers have always been the ultimate girls' bonding experience — a night to stay up late, watch movies, eat junk food, chat about boys, life, school, clothes and especially other girls. Rather than let a night turn to harmful gossip or silly rumors, the idea was to bring together mothers, daughters, mentors and girlfriends together to creative a night of positive self esteem.

Media Strategy: To meaningfully reach this complex dual target of mothers and daughters, a new standard for media innovation was created in the Canadian market. A highly-customized "touching lives" campaign was created including a simultaneous 5-network take-over—a media first in Canada.

The campaign included broadcast, digital and print elements in an effort to persuade both mothers and daughters to register and participate in the Dove Sleepover. Specialized websites completed the program, linking on-air to online to real-life.

Media for the daughters was created by developing content of appeal to them. Mothers were given the opportunity to make the sleepover a positive experience for their daughters. A national invitation was issued for Canadians to visit dovesleepover.ca/ soireedove.ca to obtain all the necessities for participating in a sleepover or hosting their own event. Daughters had offers for pajamas, music downloads and interactive photo albums, while mothers had tips, expert advice and retail offers.

On the night of the sleepover, Canadian networks ran self-esteem themed movies like "Sisterhood of the Traveling Pants" and "High School Musical," as well as segments by self-esteem experts, sharing personal stories of struggle and success. During commercial breaks, custom-produced segments were aired showing what was happening in homes throughout the country

How Could this be a Template for Other Campaigns or for World Class Standards? The success of the Dove Sleepover media campaign can offer a number of key guidelines to any other project:
• Create a media strategy to achieve the core objectives of the brand — in this case, "touching lives" — rather focusing on traditional media deliverables.
• Ensure a unified vision of the project by all parties (clients, agencies & suppliers)
• Think through the execution from the target's point of view.

Results: The Sleepover in Canada ranked #1 in the Dove global "touched lives" initiative with over 30,000 mothers and daughters registered. Post-event surveys demonstrated that mothers respected Dove for their sleepover support, felt that they could better talk with their daughters and wanted to purchase more Dove products. Daughters agreed that the sleepover build their self esteem and would encourage others to host one.