GOLD WINNER: McDonald's Big Mac Chant Off: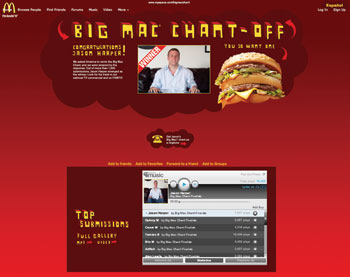 Client: McDonald's

Entrant Company: OMD New York

Entry Category: A Local Brand or Service in a Local Market with innovative media solutions worthy of international adaptation or of world class standards

Names to be credited with submission:
OMD — New York McDonald's team

Time Period of Campaign: 2008

Case Study Summary:

Marketing Situation: Twoallbeefpattiesspecialsaucelettucecheesepicklesonionsonasesameseedbun.

Thirty-three years ago, McDonald's owners in NYC offered free Big Macs for those able to recite that order in under three seconds. The challenge became so popular, that NYC ran out of Big Mac buns!

In 1986, The Economist coined the term "Big Mac Index" to compare global currency based on how much a Big Mac cost in each country. It was simple — the Big Mac was made exactly the same around the world.

But in 2008 the Big Mac turned 40, and the famous burger needed a boost. McDonald's now had a more diversified menu, particularly in the chicken category, but it did not want to lose its original brand identity as a place for burgers.

Key Insights: The 40th Anniversary created an opportune occasion to refresh the brand and get people talking about and craving the Big Mac again. Regardless of their ethnicity or geography, 70% of Americans have tried a Big Mac. Yet, today we live in an era of social currency and Young Adults demand a say in who and what makes it to the top.

Web research revealed a celebration of the Big Mac through social connection: images appeared on hipster t-shirts and thousands declared their fandom in the "I Love Big Mac" Facebook Group.

This gave us three insights, about our Young Adults target:
• They are passionate about many interests and want to be included in the ad process
• They are loyal to brands that create and maintain social connections and opportunities
• As consumers, they connect through music and technology

Media Strategy: An idea emerged to use the original 1974 jingle, the Big Mac Chant, to create a deeper connection to the brand for Young Adults.

As the Chant has cultural value, outlets with cultural roots were the starting points: MTV (Music!) and MySpace (Connection!).

To reinvent the Chant from "retro-stale" to "retro-chic" (think Kitchen aid Mixer), we went to MySpace. A profile was created for a 'Big Mac Chant-Off' competition, encouraging users to make the Chant their own. Never before in history did consumers have control of McDonald's assets. Included on the profile were tracks by up-and-coming artists, an audio kit and submission galleries. Judges included record executives, artists and a celebrity. A YouTube homepage takeover served as an exposure play for the contest.

MTV's new "classic music" show, FNMTV, provided another campaign cornerstone. It underscored the strategy of bringing back classic elements for both brands-- music for MTV and Big Mac for McDonald's. During the show, an audience member recreated the Chant on-air encouraging others to submit their own versions. The winner of the Chant-Off was featured in a TV spot during FNMTV and in all National commercials.

How Could this be a Template for Other Campaigns or for World Class Standards? Just as the original Big Mac jingle is simple – stating only the product's ingredients – the strategy remained simple: think about the user experience. It was important to play in the arena of consumer-generated content, but only through reliable outlets to ensure the brand identity would not be tarnished. Making it easy for the consumer to participate was crucial, but a valuable prize had to be offered. Aligning with top judges and talent lent credibility and authenticity to the offer. Best of all, a positive response created unlikely "Brand Ambassadors" who helped re-ignite the craving for an old favorite.

Results: Results both confirmed and exceeded our expectations. The client was pleased with the record-breaking lift in sales. The music and social networking industry noticed as well – the Big Mac Chant-Off won the AdWeek Buzz Social Media Award and was featured in Rolling Stone.

One example of proven integration is that when FNMTV went live on June 27th with the custom Big Mac Vignette, traffic on the MySpace Big Mac page spiked to 55,586 visits, up from 9,421 the previous day.

By reintroducing this classic to a new generation, declining sales were addressed by creating a program that gave the hamburger a fresh image and gave consumers a chance to achieve a dream.