GOLD WINNER: Hershey's — Eye Candy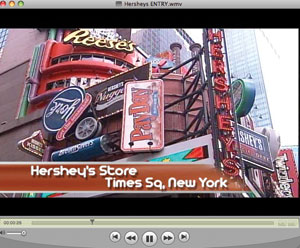 Client: Hershey's

Entrant Company: OMD New York

Entry Category: A Local Brand or Service in a Local Market with innovative media solutions worthy of international adaptation or of world class standards

Names to be credited with submission:
OMD — New York Hershey's team

Time Period of Campaign: 2008

Case Study Summary:

Marketing Situation: In a category cluttered with similar product offerings, increased options by specialty chocolate makers were eating at Hershey's sales. Hershey's 100-year-old brand was being viewed as staid in comparison to all the new confections and "chic" chocolatiers in the marketplace. It was time to reverse the consumer's perception of Hershey's as an "old" and "dated" brand. At the same time, they needed to lift sales of the core brands (Twizzlers, Reese's, Kisses, and Franchise) by at least 5% to meet the 2008 sales goal.

Key Insights:Hershey's quantitative research, combined with focus group results, indicated that Hershey's was becoming the "candy I ate as a kid" brand and was not perceived as modern. Through other consumer behavior tools, it became clear that the Hershey's target consumer (women 18-49) identified fashion and candy as two favorite outlets. The challenge was to reach this "sweet" spot by creating the ideal environment for women to indulge in both their pleasures at the same time.

In leveraging popular culture and contemporary media vehicles, a strategy was developed to paint Hershey's as a fashionable – not old-fashioned – brand

Media Strategy: Bravo's Project Runway was a perfect fit to make Hershey's, a company rooted in its history and nostalgia, more culturally relevant. The unusual pairing of fashion and food, plus the unpredictable world of reality TV, proved to be the right ingredients to engage viewers and impart a modern image to the iconic Hershey's brands.

The premise was to weave Hershey's into the core of the show without forcing the relationship between fashion and food; consumers needed a reason to believe that food and fashion can coexist. The "EyeCandy" challenge did this successfully by having designers use the Hershey products as raw material to create a look of their choice. Within the episode, Hershey's showcased messaging for two of their most recognizable brands, Reese's and Kisses.

Contestants, all vying to become the next "it" designer, were taken on a surprise trip to Hershey's Times Square store, so they could find materials to create garments made solely from Hershey's candy. One designer even created an edible Twizzlers ensemble, which was one of the best designs of the episode. The entire show was dedicated to the Hershey's integrated brand challenge.
ONLINE
A Hershey's website featured runway blogs, games, quizzes, streaming video, exclusive backstage photos, contestants and hosts biographies, and other content from Project Runway. Hershey's also sponsored the successful weekly Online Quiz: "What Designer Are You?" enabling an interactive user experience by encouraging viewers to submit their own "Eye Candy" masterpieces.

EVENT
Tim Gunn hosted a media tour of the dresses in Hershey's flagship Times Square store. The dresses were then auctioned off to benefit the Young Survival coalition, which promotes breast cancer awareness, raising tens of thousands of dollars.

MOBILE
In conjunction with the online creative, Hershey's was the sponsor of an on-air SMS text engagement that allowed consumers to interact with the program by voting for their favorite episode.

PRINT
A 12-page mini-magazine was inserted in Elle, Project Runway's official print partner, highlighting the "Eye Candy" episode.

How Could this be a Template for Other Campaigns or for World Class Standards? Although 100% of the hour dedicated to the "Eye Candy" challenge with the Hershey's brand integrated in 40% of the episode, the use of brand placement was not overwhelmingly forced, but rather was a celebration in pairing fashion and food together. With a limited budget, the value of integrated elements within the first airing was estimated as being equivalent to the cost of 23 thirty-second spots.

The strategy and tactics for this campaign solution are a clear outgrowth of the objective. It also uses celebrity star power, a preexisting highly engaged audience, and a multichannel integration across TV, Online, Press, Promotion, Event, PR.
Results: The Hershey's/Project Runway integration proved to be an immediate hit with consumers immediately. Not only did "Eye Candy" become viewers' Best Challenge of the Season, but the episode was the highest rated Cable program for the entire day.

Sales of Hershey's candy have spiked since the episode aired, and sustained at higher levels concurrent with the media road show and online promotions. Additionally, a third party evaluator of brand integrations (iTVX) scored the episode the highest ever, stating that the Project Runway concept "conveyed important personality traits and emotional triggers of the Hershey brand. The integration treatments were high impact, valuable, and engaging…ensured the brand and its character was deeply embedded within the context of the program." "Eye Candy" successfully brought Hershey's into the cultural forefront and reconnected consumers with the brands they grew up loving.