BRONZE WINNER: Jindal Hissar — Creating an End-Customer Pull in a B-to-B Category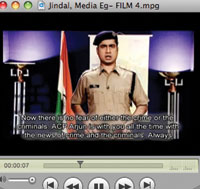 Client: Jindal Hissar

Entrant Company: Media Direction, R K Swamy Media Group

Entry Category: A Local Brand or Service in a Local Market with innovative media solutions worthy of international adaptation or of world class standards

Names to be credited with submission:
Team Media Direction

Time Period of Campaign: 2008

Case Study Summary:

Marketing Situation: Galvanized iron pipes are those that are embedded in the walls of houses and are used for carrying water from source to outlet. Jindal Hissar, a leading name in steel and galvanized products, was launching, for the first time in India, a revolutionary galvanized pipe product or "Anti Corrosion and Leak proof (A.C.L) G.I Pipe." The product will not corrode with acid or the ill effects of standing water.

For the pipes to be a success, they must not only be a preferred choice among their current b-to-b audience of plumbers and contractors, but also the preferred choice among consumers who own homes or buildings in the process of construction or renovation. Jindal's consumer base needed to be expanded.

This general category of pipe is thought of as a commodity, and there is little decision-making involvement on brand preference. The new Jindal Hissar product was also priced at a premium over the existing non-A.C.L pipes and probably would not sell until an end- customer pull was created.

Key Insights: Anti Corrosion and Leak proof (A.C.L) G.I Pipes were not bought by the end-user, but by plumbers and contractors. The largest-selling brand is often taken for the most convenient choice. The gap between product offering and consumer had to be bridged. As a result, the frame of reference had to shift from a G.I. Pipe being a mere plumbing product to an important ingredient in a dream home.


Thus, "Education" among end consumers, about the attributes and benefits of the product, became the core of the strategy

Media Strategy: All channels of communication were explored and a 360 approach was devised to touch the various consumer segments. This included a launch conference, executed by the Media Agency in collaboration with a home/interiors magazine partner. TV and Radio were also conceived by the Media Agency and executed through the respective channel partners. Even a tie-up with a construction company for brand logo and a product feature mention was arranged and executed.

How Could this be a Template for Other Campaigns or for World Class Standards? Health is a key cause of concern and a path-stopper for any consumer, in any country of the world. Research with end consumers showed how they believed that dampness on walls was a cause for asthma and bronchitis.

This insight became a source for a number of TV and radio messages. An RJ of a Radio channel interacted with the "Residents Welfare Associations" of colonies/row housings to provide solutions to dampness on the walls of their homes. The end consumer was provided with good and useful information, which resulted in a multiplier effect with further education from multiple touch points.
Results: A five-city post-launch research project showed that awareness increased among end consumers by 51% within the first month of the campaign. "Need to consider" product evaluations increased by 27%, while ACL inquiries at dealerships increased by 17% during that same first-month timeframe.