GOLD WINNER: Peroni (SAB Miller)- A Beer with Italian Style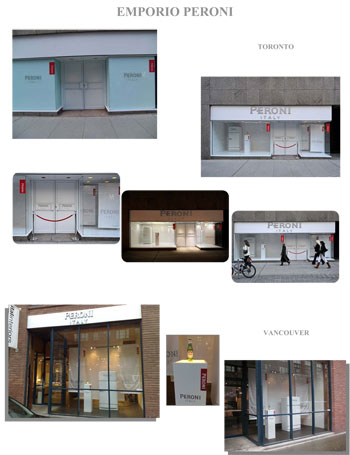 Client: Peroni Nastro Azzuro Beer

Entrant Company: PHD Canada

Entry Category: A Local Brand or Service in a Local Market with innovative media solutions worthy of international adaptation or of world class standards

Names to be credited with submission:
• Stewart Cowan, SAB Miller
• Catherine Francoeur, SAB Miller
• Rob Finkelstein, GMR Marketing
• Alyea Henderson, Titan Outdoor
• Zoryana Loboyko, PHD Canada
• Vanessa Porter, PHD Canada

Time Period of Campaign: 2008

Case Study Summary:

Marketing Situation: Peroni has long been a favorite with Italian beer drinkers, but the brand set out to reinvigorate the beer category around the world with a unique proposition: Italian style applied to beer. Peroni understood that most countries appreciate Italy as a symbol of style, passion and craftsmanship.

This global rebranding strategy spawned a worldwide reintroduction, kicked off in London by the opening of "Emporio Peroni"-- a store-front so exclusive that it is for window-shopping only. In autumn 2008, Peroni made its entrance into the Canadian marketplace. As a relative newcomer, it faced aggressive competition from the import beer category. Toronto and Vancouver, recognized as Canada's two fashion centers, became the target for the relaunch.

Key Insights: Beer today is a lifestyle beverage. Peroni is "Italian Style applied to Beer" which appeals to modern sophisticates—an urban, style-conscious segment, aged 25-34, who are discerning in their beverage choices. They rely on word-of-mouth and "street cred." When things become mainstream, they move on.

The media strategy was to align Peroni messaging in "alta moda" or high style media environments. This concept provided direction for how the brand would behave in media and where it would be placed.

Media Strategy: To lay the foundation of the association between Peroni and style/fashion, the brand secured the title beverage sponsor of Toronto Fashion Week. Emporio Peroni was also launched during this week on Toronto's "Fashion Mile," nestled alongside Gucci, Luis Vuitton and Hermes. Emporio Peroni, designed to feel so "alta moda" that it is for window shopping only, displayed a single bottle of Peroni on an illuminated pedestal, surrounded by a single red rope on silver stanchions. It fascinated passers-by.

In Vancouver, Peroni partnered with high-end furniture retailer, Italinteriors, in the trendy Yaletown neighborhood to launch Emporio Peroni in their store window—on a street lined with quality restaurants, fashion boutiques and galleries.

Peroni was now in an environment where the target audience lived, dined, shopped and entertained. Transit Shelter Advertising was also used for its classic street-level appeal, but this was supplemented with night projection—an emerging technology in Canada. This showcased the brand in a contemporary, innovative and noticeable way.

How Could this be a Template for Other Campaigns or for World Class Standards? Peroni's is a an example of how a global brand strategy can be molded and styled t suit the Canadian marketplace. Yet the Canadian-crafted media strategy can be applied to other markets, particularly the following elements:

Solid understanding of the target: where they lived, liked to dine, shop and be entertained
Articulating how a concept like "alta moda" could build an insight for all media placement.
Use of new media, like projection technology, to keep the brand innovative and fresh

Results: Peroni saw a significant sales lift, measured year on year, as a result of the media campaign. The PR generated was substantial, including coverage in Canada's Globe and Mail website.