SILVER WINNER: Johnson & Johnson Clear & Clear Sampling Experience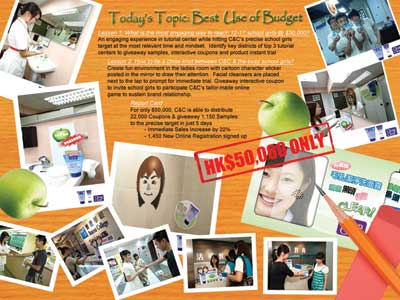 Client: Johnson & Johnson

Entrant Company: OMD Hong Kong

Entry Category: A Local Brand or Service in a Local Market with innovative media solutions worthy of international adaptation or of world class standards
Names to be credited with submission:
• Amanda Ng
Time Period of Campaign: 2008

Case Study Summary:

Marketing Situation: Clean & Clear is a skin care range catering to school girls aged 12-17. The marketing challenge was to launch a new variant of facial cleanser – Apple—with an extremely modest budget. The goal was to raise awareness and encourage trial among the core audience.
School girls are busy and difficult to reach with traditional media. Sampling is a must and conventional launches of skincare products focus on sampling within magazines. However, for a target audience of girls 12-17, a woman's magazine audience waste is high at 72-84%, and such a program was cost prohibitive for the budget.
Key Insights: Tutorial centers are the place where 12-17 year old girls go to study, but also to hang out with their friends and talk about the things most important to them, including looking good.

Discussion of a product in a social environment often produces a multiplier effect, and young girls are sensitive to the thoughts and opinions of their peers. A new facial cleanser presented within a targets' social environment can encourage word of mouth between groups of friends and increase the brand presence for Clean & Clear.
Media Strategy: Twenty tutorial centers across Hong Kong were selected, based upon their reach of the target audience.

Posters and leaflets were placed in the hallways and exits of the tutorial centers-- favorite spots for catching up with friends. However, the key focus of the campaign was in the ladies room.

Images of a cartoon character with pimples were superimposed onto mirrors. The girls could see their reflection through the character—to provide laughter with their friends, and fun and games in the ladies room. This also drew their attention to free samples of Clean & Clear placed next to the taps, encouraging them to cleanse away the dirt and grease after a long day at school.

Interactive discount coupons were provided directing cost-conscious teenagers into stores to buy the product. The coupon also invited users to log onto C&C's website where they could play a tailor-made online game, and find out more about the product.


How Could this be a Template for Other Campaigns or for World Class Standards? The campaign demonstrates how a modest budget can be effective by utilizing precise targeting to eliminate wastage. Tutorial Centers may have been unexpected, but they represent an environment central to the target audiences' daily lives.

It also demonstrates that creating word-of-mouth among social groups can achieve maximum impact. Posters, samples and coupons in hallways and ladies rooms brought Clean & Clear into the social lives of teenage girls ensuring it became a topic of conversation.

Results: The results included an immediate double-digit sales increase, and significant new online registrations provided opportunities for future customer contact.