SILVER WINNER: Philips Shavers — Putting Philips Shavers in the Diving Seat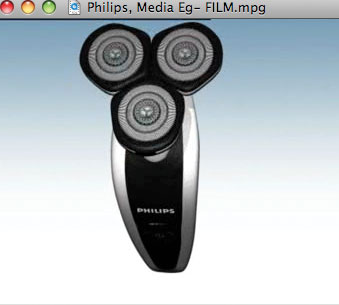 Client: Philips Shavers

Entrant Company: BBC Worldwide, London
Media Agency: Carat International
Production Company: Sunset & Vine

Entry Category: A Global campaign or a Multinational campaign running in more than one region
Names to be credited with submission:
• Georgina Boyd — Senior Manager Global Public Relations, Philips
• Nick Meyern — Director Branded Content, BBC Worldwide
• Ian Sollors — Head of Branded Content, Sunset & Vine
Time Period of Campaign: 2008

Case Study Summary:

Marketing Situation: Philips Shavers are known as technologically-superior, cutting-edge brands, and to highlight those attributes, Philips became a sponsor of the WilliamsF1, or Formula One Motor Racing team, along with Williams' other 21 brand partners.

The campaign's goal was to promote its innovative new Arcitec electric shaver RQ1095 across the world – particularly in Germany, France, Spain and Japan, and build awareness of the brand's association with Williams without getting stuck in the pits behind 21 other brand partners.
Key Insights: Formula One teams are not just great sporting enterprises, they are successful international companies. Williams F1 could teach business executives a thing or two.

The official Williams trading name is Williams Grand Prix Engineering Ltd., and the company is both a Formula One (F1) team and a constructor of F1 engines/chassis and owner of their intellectual rights. The company was founded and run by English racing notables, Sir Frank Williams and Patrick Head.

As a result, Williams was the perfect model for an international business in the 21st century. It was technologically driven, globally appealing with the added excitement of sporting interest--a mix that would appeal to the target audience of older, affluent males, interested in technology and who travel for business and pleasure.
Media Strategy: BBC Worldwide created Formula for Success, a business show that used Williams F1 as a showcase for eight key challenges faced by all global brands companies. Philips Shavers were inserted into the heart of a technological sport, and was able to further capitalize on its profile as a cutting-edge brand.

A Formula For Success 'block weekend' allowed viewers who had missed the series to catch up on all the episodes. A dedicated microsite, with exclusive Philips Shavers advertising, was also developed with synopses of each program offered viewers an opportunity to question the arguments put forward in the series and add their own insights.

To further maxmize value, the series was edited down to a one-hour special,
Track For Success, for which BBC Worldwide negotiated broadcast rights with 24 terrestrial broadcasters around the world. The program was also available in-flight on 10 airlines including Emirates, KLM and Cathay Pacific.

How Could this be a Template for Other Campaigns or for World Class Standards? Put together by BBC Worldwide's new branded content division, Formula for Success involved a new approach to content that preserved editorial integrity while also making sure everyone was part of the process—from Williams to Philips to the production company. Eight 30-minute programs were produced, each focusing on a different aspect of the business/Formula One analogy. Issues addressed included: recruitment, teamwork, sponsorship and globalization. Philips Shavers ran identifications that played on its F1 sponsor role.

Results: Research carried out by BBC Worldwide in the key markets indicated the campaign was highly successful. 94% of Formula For Success viewers had a positive attitude towards the program. Sponsorship recognition was excellent, with nearly 75% of viewers recalling the link with Philips Shavers.

And it also delivered business benefits. Consumers were 57% more likely to consider Philips Shavers next time they bought a shaver and 60% felt more positive about the brand.

Philips Shavers and Formula For Success had distribution to the their key global marketing, including: 21,585,000 homes in Germany; 6,652,000 homes in France; 3,664,000 homes in Spain; and 12,474,000 homes in Japan. Plus, 266,931 hotel rooms also aired the program in the key markets. In total, the series and edited show were broadcast in 81 different territories, including on CCTV in China, the first time a BBC World News program had been shown in this market.